TRA 2024 – ALICE looks forward to welcoming you at our Logistics Innovation Village
Monday, November 13th, 2023
ALICE is one of the co-organizers of the next Transport Research Arena, which will be held from 15-18 April 2024, in Dublin at the RDS Centre! In the exhibition area, 12-14 projects will populate the ALICE Innovation Village! Our stand will be located close to the European Commission's stand, ERTRAC's, CCAM's & other Partners –  Take a look at the venue Floor Plan
ZEFES, AI4CCAM, RESCHAPE, FOR FREIGHT, KEYSTONE, DISCO, MultiRELOAD come on board already!
What awaits you in the ALICE stand
Zero-Emissions, Physical Internet, Ports, Urban, Intermodal Transport, Inland Waterway Transport, Digital Logistics, Transport resilience will have central stage! As what distinguishes our stand, is the idea to put projects first – and they will be the main characters that will light up the area for 3-days. The ALICE stand will consist of three areas:
Logistics R&I projects' exhibition area: For this edition we want to strengthening cooperation on thematic areas by allowing projects under the same themes to clustering.
Logistics Innovation café: Where cross-sectorial networking, new ideas, and potential new synergies come to life while enjoying a coffee.
Logistics Innovation Theatre: The theatre is a dedicated space enabling project dissemination, room for short seminar or roundtables, surrounded by the unique TRA's atmosphere.
Tentative set-up 1
Tentative set-up 2
ALICE stand – Two options for the project joining: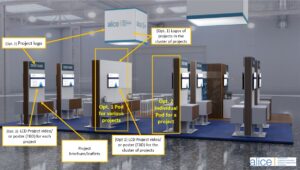 Discover more on the projects on board:
ZEFES – Taking Zero-Emission Long-Haul Freight Transport in Europe to the next level (read more)
AI4CCAM – Trustworthy AI for Connected, Cooperative and Automated Mobility
ReSChape – REshaping Supply CHAins for Positive social impact
FOR FREIGHT – Flexible, multi-mOdal & Robust FREIGHt Transport
KEYSTONE – Simplifying cross-border logistics compliance
DISCO – Data-driven, Integrated, Syncromodal, Collaborative and Optimised urban freight meta-model for a new generation of urban logistics and planning with data sharing at European Living Labs (read more)
MultiRELOAD – Digital & Automated Multimodal Nodes and Corridors (read more)

            

 

   

 
Find out more:

Do you want to know more? Feel free to reach out to Mr Andrea Annunziata: andrea.a@etp-alice.eu
---
---
Back to overview