ALICE released end of 2019 the "Roadmap Towards Zero Emissions Logistics in 2050" as part of the renewed ALICE strategy and under the leadership of Sustainable Logistics Supply Chains Thematic Group.

The figure below includes different solutions areas for supply chain decarbonization. ALICE members are working on realizing them. The ALICE efficient and low emission assets and energy thematic group (TG1) focus on fleets and assets are energy efficient and use the lowest emissions energy source feasible.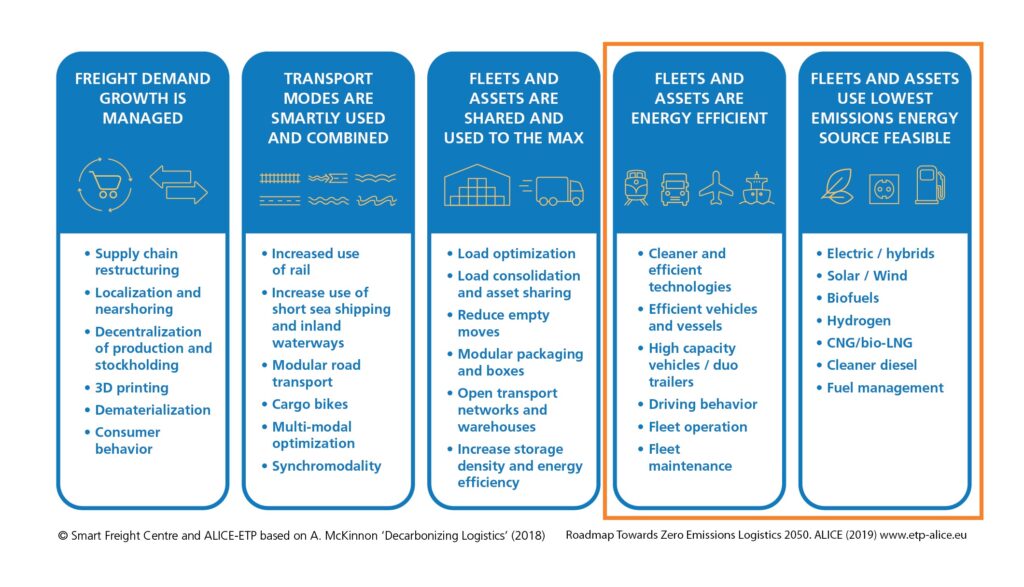 ALICE Projects related to this group:
Currently the group is busy with these activities:
2Zero: Zero Emissions Road 
Hydrogen Europe
GHG emissions measurement and reporting
Low emissions assets availability
Countries and Regions Programmes Supporting Zero Emissions Logistics
---
---
---
TG1 Efficient and low emission assets and energy intranet (ALICE members only)
All TG1 past events, news and documents
Additionally, the Thematic Group delivered in 2014 a Research and Innovation roadmap on "Sustainable, Safe and Secure Supply Chains".  We envisioned an evolution towards fully integrated supply networks, in which logistics service providers, shippers and authorities closely cooperate.
The other areas focussed on efficiency gains are addressed through thematic groups on, Corridors, Hubs and Synchromodality, Global Supply Network Coordination and Collaboration and Urban logistics.