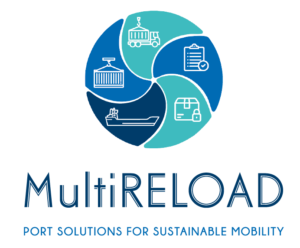 MultiRELOAD project focusses on the specific role and challenges of inland terminals as multimodal freight nodes in reducing GHG emissions through shifting inland road flows to rail and inland waterways by increasing operational efficiency, safety and reliability of inland infrastructures through digitalization. MultiRELOAD builds on 3 demonstration sites which concern the multimodal platform of Duisburg (Duisport -DE), the trimodal terminal of Vienna (Ports of Vienna – AT) and Basel. These 3 sites are strategically well located along the Rhine and Danube within the TEN-T networks with a high potential of shifting to rails and waterways.
MultiRELOAD envisions to enhance the collaboration between these intermodal logistics nodes in Europe to test innovations and propose favorable market solutions for strengthening the use of multimodal freight transport. It will enable an increase in operational efficiency through data sharing between actors within and between nodes. The ambition is to reach sustainability and terminal transshipment efficiency at nodes and corridors, by optimizing the use of assets and infrastructures.
To contribute to the above ambitions, MultiRELOAD will develop 3 innovation areas to demonstrate and validate innovative multimodal transport solutions:
Innovation Area A: Smart multimodal logistics – increase the modal shift of 5% from road to rail and increase of 5% from road to inland waterway transport
Innovation Area B: Digital and automated multimodal nodes and corridors -Increase operational efficiency within multimodal inland terminals and supply chains through corridors by 20% raise of handling capacity by 2025.
Innovation Area C: Innovative business models – develop seven business models   for each demonstrator and ensure the uptake of the solutions in the market leading to an average cost reduction of freight transport by 10%
ALICE role in the project



Alice, as one of the main partners of the project, will support the development of the whole project activities and the consortium as a whole to link with relevant projects and initiatives, to disseminate and reach the key stakeholders groups and particular organizations with whom to engage over the duration of the project and beyond.
In regard to its activities, a special focus will be made on 2 main innovations which are fully aligned with ALICE roadmaps and thematic groups on Corridors, Hubs and Synchromodality and on Systems and Technologies for Interconnected Logistics. These 2 innovations are:
Multimodal Node Digital Twin: Support the development of a digital twin platform of a port (logistic multimodal hub) as central visualization point for data from diverse sources in ports, city authorities and MultiRELOAD Demos for assisting decision-making – Umbrella of all Demos
This demonstrator will provide a unique solution to improve decision-making considering real-time data and prediction, enabling data exchange between ports stakeholders and monitoring full traceability of port operations processes. Simulated scenarios will be developed through the use of AI and big data analytics to optimize port and terminal operations, specifically to reduce pollution and environmental impact.
Multimodal Corridor Digital Service: Support digitalization of inland navigation to integrate it more efficiently into logistics chains for increasing the modal shift to rail and IWT
This demonstrator will provide a smart solution for integrating the inland navigation to all transport means. It will be supported by the use of the RPIS (Rheine Port Information System) which will be interconnected with other systems. Besides, a slot booking application will be developed in order to facilitate the use of inland waterway transport and to attract more cargo.
Alice will support demonstrators by organizing interviews and workshops towards relevant stakeholders in order to validate results and business models. Thus, Alice will embrace a specific task named as "User forum meeting": special focus will be given to companies including terminals, nodes, freight forwarders, logistics service providers and cargo owners as main drivers for change and impact generation by market uptake of MultiRELOAD solutions and key generators of the expected project outcomes. This task will involve policy stakeholders in order to transfer the MultiRELOAD innovations into the discussions on the different Corridors, particularly the Rhine-Alpine and Rhine-Danube.
Why is Alice part of MultiRELOAD and what is its role?
The MultiRELOAD results will enrich the Alice knowledge base in multimodal transportation and all related topics such as ports, hubs, digitalization and many more.
ALICE will further support assessing and addressing how MultiRELOAD innovations can support the increase the of use of rail and IWT for freight within Cargo Owners (manufacturers, retailers), transportation companies, freight forwarders, logistics companies, terminals and hubs. Finally, ALICE will support linking relevant initiatives and projects, creating synergies and addressing interdependencies between stakeholders and bringing added value to its members.
Consortium members
The project consortium is led by Duisport, and consists of 21 additional partners representing different stakeholders.
Alice members:
Other members of MultiRELOAD:
Technology and IT providers
Intermodal and logistics operators
Organizations and ports authorities
Consulting
---
  Alice is working on the MultiRELOAD project since September 2023 and is co-organizing with Prodanube and project partners a User Forum Meeting during the Danube Ports Days on 23/24 November in Vienna (find here the agenda).  Registration to the Danube
Read more
---
All Project MULTIRELOAD related past events, news and documents
Link to related projects as part of the Knowledge platform

For Freight – LinkedIn page : FOR-FREIGHT : Présentation | LinkedIn / website: Home – FOR FREIGHT (for-freight.eu)
| | |
| --- | --- |
| | MULTIRELOAD is co-funded by the European Union under grant number 101069796. Views and opinions expressed are however those of the author(s) only and do not necessarily reflect those of the European Union. Neither the European Union nor the granting authority can be held responsible for them. |