ALICE released end of 2019 the "Roadmap Towards Zero Emissions Logistics in 2050" as part of the renewed ALICE strategy and under the leadership of Sustainable Logistics Supply Chains Thematic Group.

Unfortunatelly, the development of fully competitive greener and cleaner vehicles, trains, barges, ships and airplanes as well as other technologies for a more efficient transport is forecasted to be too slow to deliver on our climate change targets. Therefore, the technology and energy transition development needs to be supported with new and innovative freight transport and logistics concepts for short term efficiency gains and more adapted to the characteristics of the new assets  so that could make transition to green assets and infrastructures affordable.
The figure below includes different solutions areas for supply chain decarbonization. ALICE is working on realizing these efficiency gains throug the sister thematic groups on, Corridors, Hubs and Synchromodality, Global Supply Network Coordination and Collaboration and Urban logistics.
The current focus for this Thematic Group is currently on fleets and assets use the lowest emmissions energy source feasible.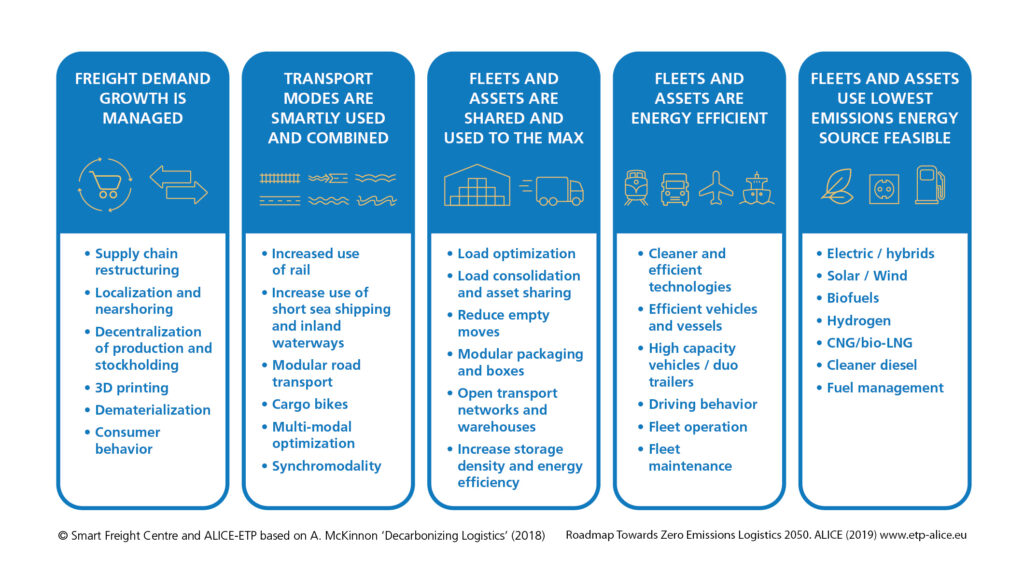 Additionally, the Thematic Group delivered in 2014 a Research and Innovation roadmap on "Sustainable, Safe and Secure Supply Chains".  We envisioned an evolution towards fully integrated supply networks, in which logistics service providers, shippers and authorities closely cooperate.