Nov 20, 2023
POLIS – ALICE Urban Logistics Webinar Series 2023 #2: Urban Space for Freight
Thursday, October 26th, 2023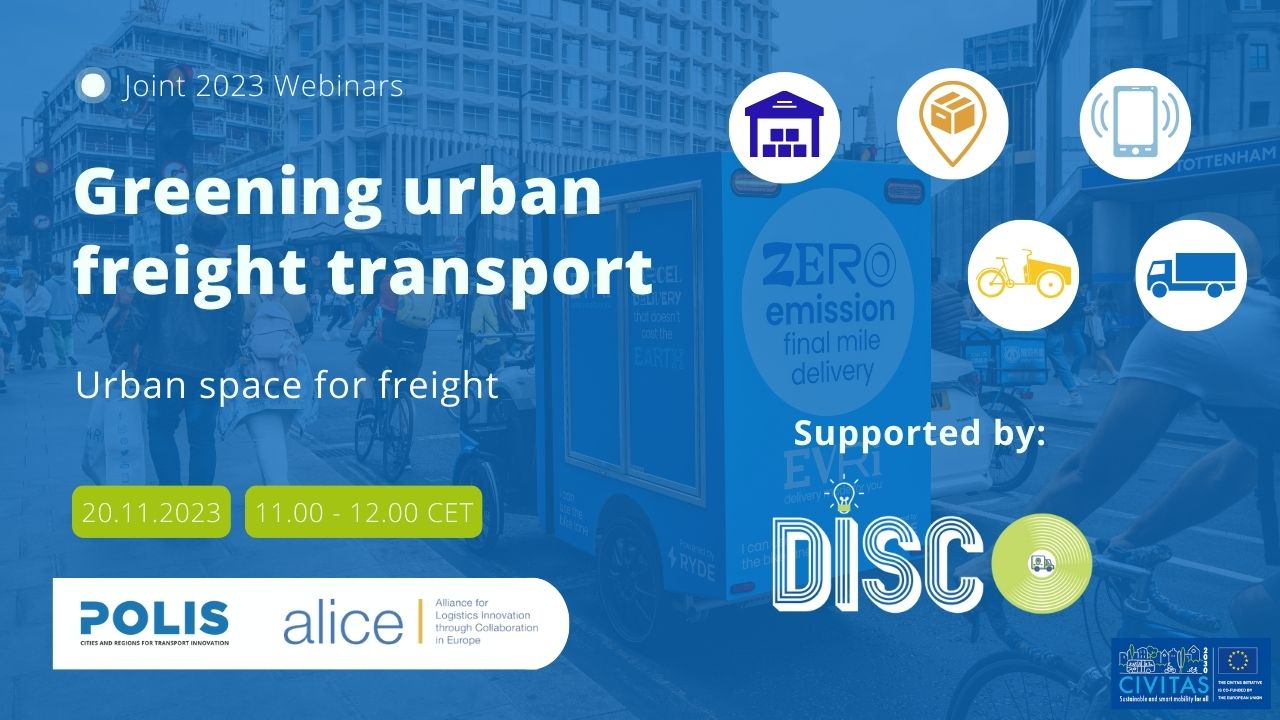 Urban space is precious. In the POLIS – ALICE Joint Guide "Fast-track dynamic planning and access to urban spaces, zones and resources" has been recommended as an action to reduce conflicts and efficient use of urban space.
The logistics sector needs:
space for micro hubs that enable smaller vehicles including cargo for last mile delivery
space for charging facility and areas where drivers can take breaks
loading zones for delivery
Having usage data of urban space including use of curb sides as well as road user category requirements can make possible to understand how to efficiently use urban space, reduce conflicts and improve safety and overall transport efficiency.
Although demands for home delivery has been increasing, private cars still dominantly take most of road space. Regulations on urban space have not been reflected the increased demands for urban logistics. Reduced car ownerships have freed up urban spaces that has potential to be allocated to urban logistics. In addition, increasing e-commerce also has shifted functions of city centres from traditional retail spaces to other service functions. Use of retail spaces for micro logistics hubs or establish micro logistics hubs in residence areas are not a popular solution among policy makers and citizens. However, some good practices to use various spaces for ad-hoc logistics hubs have demonstrated benefits and re-thinking of planning rules is needed.
This webinar aims to share current practices and inform each other innovative solutions currently being developed or demonstrated, thus facilitating dialogues between the public and private sectors, and create a common understanding for future policy measures.
Final agenda:
Moderator: Raffaele Vergnani, POLIS
Invited presentations (10 – 15 min each):
Intelligent access and implementation case in Groningen, Iskandar Tange, Co-founder of CODING THE CURBS (3-Code the curbs)
Discussion on the way forward: moderated by Paola Cossu, CEO of FIT Consulting/ALICE Chair on Urban L ogistics
This webinar is supported by the DISCO project. More information about the DISCO project, please refer the link.
---
---
Back to overview