Call for Implementation Cases for ALICE Innovation Award on Multimodal freight transport ​corridors & networks
Friday, November 4th, 2022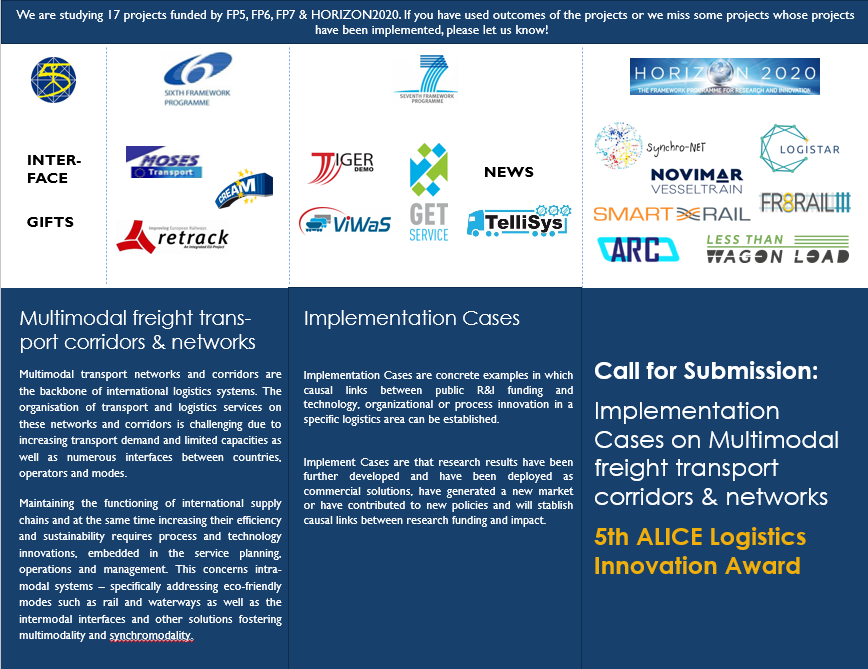 Maintaining the functioning of international supply chains and at the same time increasing their efficiency and sustainability requires process and technology innovations, embedded in the service planning, operations and management. This concerns intra-modal systems – specifically addressing eco-friendly modes such as rail and waterways as well as the intermodal interfaces and other solutions fostering multimodality and synchromodality.​
We open the call to look for concrete examples in which R&I projects' results have been further developed and have been deployed as commercial solutions, have generated a new market or have contributed to new policies or regulations. The 5th call focuses on Multimodal freight transport corridors and networks. 
Submission Open: 31 October 2022
Submission Close: 18 November 2022
Implementation Cases
Implementation cases are concrete examples in which causal links between public R&I funding and technology, organizational or process innovation in a specific logistics area can be established.
Multimodal freight transport ​corridors & networks
​Multimodal transport networks and corridors are the backbone of international logistics systems. The organisation of transport and logistics services on these networks and corridors is challenging due to increasing transport demand and limited capacities as well as numerous interfaces between countries, operators and modes.
You may download the Brochure Call for Implementation Case on Multimodal freight transport ​corridors & networks for further details.
More information:
| | |
| --- | --- |
| | Activities performed in the frame of BOOSTLOG Project, "Boosting impact generation from research and innovation on integrated freight transport and Logistics system", that has received funding from the European Union´s Horizon 2020 research and innovation Programme under grant No 101006902 |
---
---
Back to overview