Mar 25, 2021
Blockchain applications for logistics webinar
Tuesday, March 16th, 2021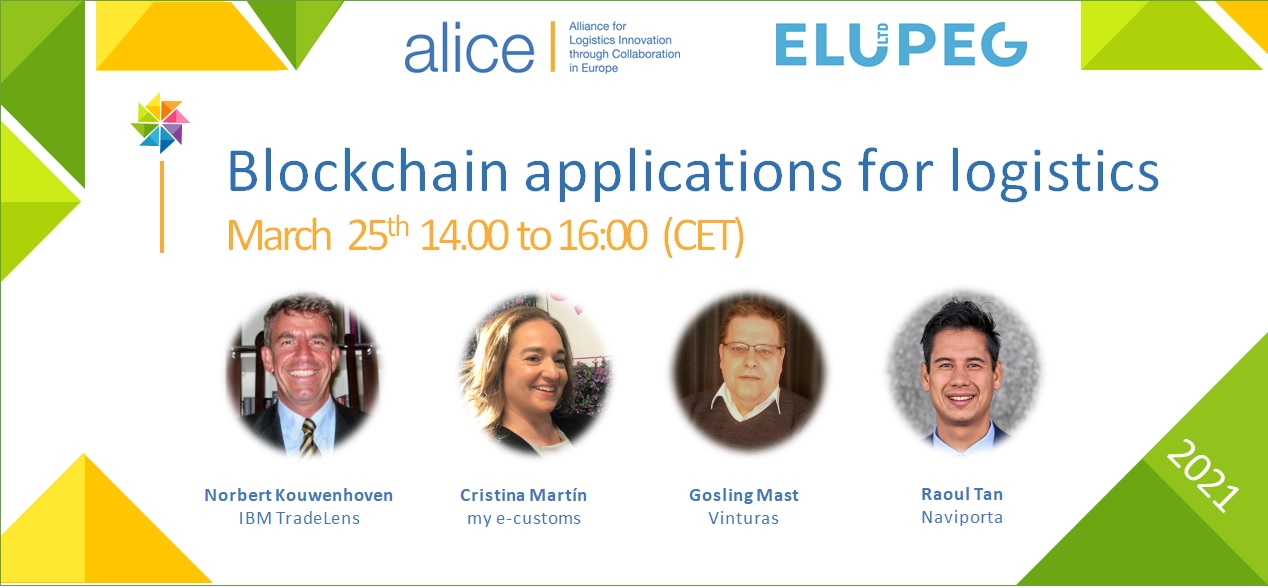 Blockchain has been a very important developing technology supporting logistics digitalization and the creation of digital and data sharing ecosystems.
Early on, ALICE recognized the potential and also the hype behind the technology and organized a Collaborative Innovation Day: "Blockchain applications and cases for logistics" as a starting point to get a better overview of the technology and potential use cases and applications for logistics.
After a couple of years, some applications have been established in the market and many academics and organizations claim Blockchain to be a key enabler for the Physical Internet (PI)
The ALICE Systems and Technologies for Interconnected Logistics Thematic Group in collaboration with ELUPEG launched the ALICE-ELUPEG blockchain applications for logistics group in October 2020 a group to gather initiatives in Europe and beyond, share practices and experiences among experts and address common challenges.
More than 20 leading initiatives and organizations are involved in this group currently.
What to expect: Takeaways
In this session, participants were exposed to concrete market initiatives and the key characteristics defining blockchain as the key enabling technology for them. We will discuss to what extent blockchain fits the needs of the different use cases addressed, the main considerations to have before implementing this technology and the way forward.
You will get a medium term vision on how this technology will help evolving some business models while maybe creating troubles for others.
Agenda
Welcome and introduction (14:00-14:20).
Fernando Liesa

, Secretary General, ALICE

Jon Kuiper

. ALICE-ELUPEG blockchain applications for logistics group leader
Learnings and value proposition from a practical perspective (14:20-15:20)
Moderated by: Jon Kuiper.
Norbert will explain what business value the TradeLens platform brings to the transport logistics of ocean freight. He will explain why and where blockchain technology was applied. He will use the actual traction and direction of the platform ecosystem to point out the disruption as well as the opportunities of the way forward.
Cristina will address the need to work beyond siloes and how to connect different (blockchain) platforms based on her experience in eCustoms: a Global Interoperable, Collaborative, Agnostic and Open platform, to synchronize global trade and its stakeholders, by using blockchain to have full transparency, security and immutability, without forcing anybody to change its actual stakeholders.
Gosling will share his experience in setting up the VINTURAS blockchain that covers visibility, sourcing, logistic- and warehouse operation, inspections, claim settlement, and eCMR. Gosling will share how data confidentiality and transaction validation barriers were overcome generating a true ecosystem.
Raoul will present the why and how of Naviporta and will emphasize multiple use cases (e.g. UK Customs clearance). Naviporta provides data sovereignty capabilities and decentralized data sharing infrastructure to create value in the port of Rotterdam cluster ecosystem.
Panel discussion and interactive session. Have your say! (15:20-15:50)
Panel conclusion and get engaged! ALICE-ELUPEG Blockchain Applications for Logistics Group (15:45-16:00) Jon Kuiper.
Contact
For more information and to receive a link of the recorded session, please contact: ALICE Secretariat. More information on the blockchain group: ALICE-ELUPEG blockchain applications for logistics group
Know more about our guest speakers
Norbert Kouwenhoven is working for IBM. In his current role Norbert Kouwenhoven is focused on the implementation of the TradeLens platform, specialized in the role of Customs Organisations and Authorities related to TradeLens. The other part of his focus is on Customs projects in the European Union.

IBM is involved in customs projects in Netherlands, Belgium, United Kingdom, Denmark, New Zealand, United States and more. UCC and MASP are important drivers of change for the European Union. Norbert is leading in the creation of a UCC compliant solution set which IBM uses, especially in the current implementations in NL, UK, DK and Belgium.

As member of the European Commission's Digital Trade and Logistics Forum Norbert supports the development of a network of federated platforms.
Cristina Martin is Chemical engineer, specialist in reactors.

Freight forwarder since 2005. Vice-president of ATEIA Madrid

Coordinator of the new technologies group in Feteia and MADCARGOLAB.

Co-leader of the industry and logistics forum in EJE&CON.

Full-time mother of triplets, innovative, passionate and tireless worker. My favorite quote : If you want to go fast go alone , if you want to go far , go together .
Over the past 30 years, Gosling Mast has been working in various positions in international Shipping, Manufacturing and Logistics, with a focus on software architecture and business process improvement in networked eco-systems. He is the architect of the '18 VIN-based blockchain ledger concept piloted in production successfully in 2018 at the Koopman Logistics Group.

Since the start of the Vinturas initiative Gosling is the product owner of the Vinturas finished vehicle blockchain network that covers visibility, sourcing, logistic- and warehouse operation, inspections ,claim settlement, and eCMR.
Raoul Tan is on a mission to build and scale the neutral industry platform that propels seamless global trade; Naviporta. Strong believer that co-creating and collaboration are vital for sustainable supply chain models, that doing business is about creating the most added value for your customers and waste in the global supply chain, by any means, is not sustainable.

Holding a Master degree in Business Management from Nyenrode Business University and 10+ years of experience in generating business and setting up new business units which are aimed to enable organizations to utilize the full potential of data and digitalization as key driver for business value and new business models.

Port of Rotterdam is actively connecting to ecosystem and platform players throughout the global supply chain to optimize value amongst all stakeholders. In 2019 it successfully shipped the first container using a platform underpinned by blockchain technology. It resulted in a real-time, end-to-end visibility and a paperless and instantly financed container journey from Korea to the Netherlands. In 2020 a multidisciplinary team of experts was appointed to build and scale the neutral platform to propel seamless global trade and in 2021 the platform will go live and onboard it's first customers.
---
---
Back to overview