Mar 16, 2023
Logistics network implementation cases and future directions 4th ALICE logistics innovation award & Launch of the Cloud report on Logistics Networks
Tuesday, February 21st, 2023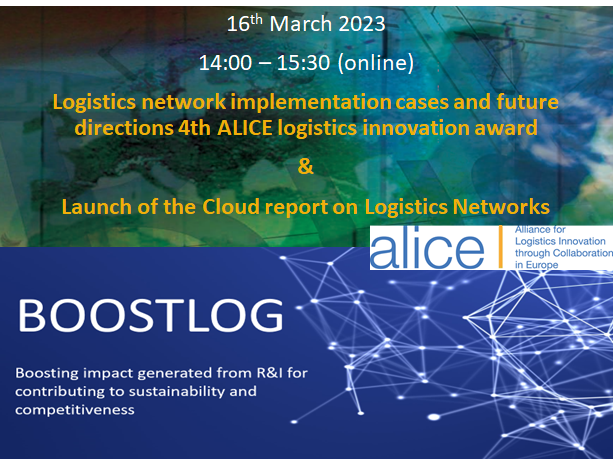 In the past few decades, the logistics sector has experienced revolutionary shifts in technologies, business models, policies and legislation facilitated by funded R&I projects. To acknowledge the achievements and inspire the logistics sector R&I community, ALICE launched the Innovation Award in April 2021. This edition will be focused on successful implementation cases stemming from R& I projects in logistics networks. This is the 4th edition of the ALICE Logistics Innovation Awards. The first three addressed Logistics Coordination & Collaboration (here), Urban Logistics (here) and Logistics Nodes (here). 
The Objective of this virtual event is two-fold: 
Present logistics networks' implementation cases, and award the most tangible examples. Implementation cases are specific demonstrators with a causal link between

public R&I funding and technology, organizational or process innovation.

 

Discuss further needed developments and directions with regard to different modes of transport and their combination (road, rail, inland waterways, air). 

 
The evaluation committee, chaired by Tomas Ambra, consists of the following experts: 
Agenda
14:00 – 14:10 Welcome and Introduction, Tomas Ambra (Program Manager & Technical Lead, ALICE)
14:10 – 14-20 Boostlog in a nutshell, Yanying Li (Head of Programmes and Knowledge Management, ALICE) (Download presentation)
14:20 – 14:40 Logistics Networks Cloud Report, Niklas Galonske and Jan Hildebrandt (Hacon, BOOSTLOG project team) (Download presentation)
14:40 – 15:00 Announcement of the winners by the selection committee  (Download presentation)
15:00 – 15:30 Panel discussion with TG2 chair and vice-chairs (Future directions of logistics networks)
| | |
| --- | --- |
| | Activities performed in the frame of BOOSTLOG Project, "Boosting impact generation from research and innovation on integrated freight transport and Logistics system", that has received funding from the European Union´s Horizon 2020 research and innovation Programme under grant No 101006902 |