Nov 24, 2021
First ALICE Logistics Innovation Award & Launch of the Cloud Report on Coordination and Collaboration
Wednesday, October 20th, 2021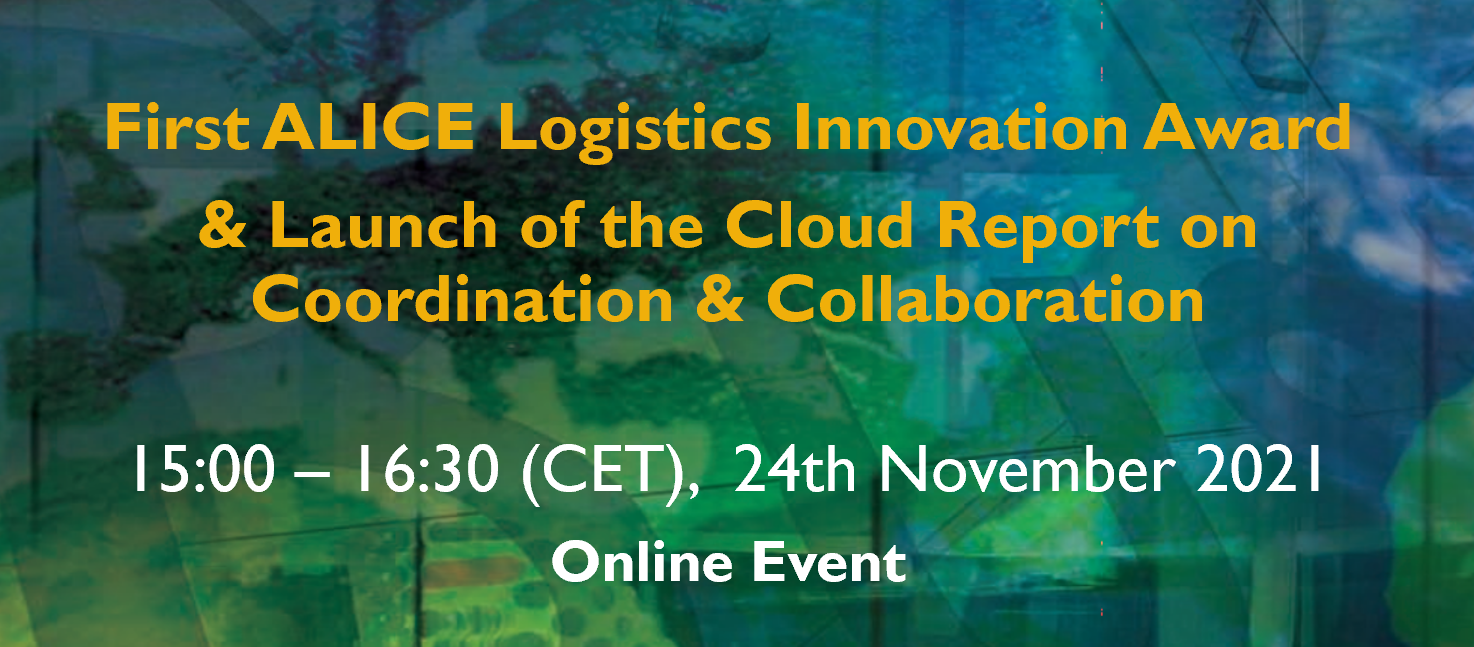 Join us to hear stories from innovation practitioners –

how to bring R&I project outcomes to the market and make real impact

  

In the past few decades, the logistics sector has experienced revolutionary shifts in technologies, business models, policies and legislation, with outcomes of public funded R&I projects being a key facilitator.

To acknowledge the achievements and inspire the R&I community of the logistics sector, ALICE launched the first Innovation Award in April this year. The first award has been focused on successful implementation cases stemming from R& I projects in logistics coordination and collaboration.

 Implement Cases are concrete examples in which causal links between public R&I funding and technology, organizational or process innovation in a specific logistics area can be established.

The ALICE Logistics Innovation Award evaluates all collected Implementation Cases. The evaluation is done by the selection based on three criteria: Link between R&I funded project and the implementation; Success of market implementation; Scalability and growth potential.

The Award Selection Committee, consists of five experts from the ALICE membership:
Carolina Cipres, ZLC, Chair of the Committee
Michael Archer, CHEP
Eric Ballot, Mines Paris Tech
Sergio Barbarino, P&G
Selim Tansug, Unilever
In the field of logistics collaboration and coordination, four cases have been selected.
Two gold awards are given to:
Two silver awards are given to:
At the ceremony the project consortium also launched a cloud report presenting main outcomes and implementation cases derived from the R&I projects as potential implementation paths on logistics collaboration and coordination.
Agenda & presentations are available: 
15:00 – 15:05 Get connected and welcome
15:05 – 15:15 Keynote Speech by Torsten Klimke, Head of Unit, Innovation and Research, DG MOVE, EC
15:15 – 15:25 BOOSTLOG – Boosting impact of research and innovation in logistics, by Fernando Liesa, ALICE Secretary General (BOOSTLOG Presentation)
15:25 – 15:45 Logistics Coordination and Collaboration – The first Cloud Report: Importance of the Topic & Achievements by Carolina Cipres, ZLC (BOOSTLOG_Coordination and Collaboration Cloud report presentation)
15:45 – 16:05 Panel Discussion on importance of logistics coordination and collaboration, chaired by Michael Archer, CHEP & ALICE Supply Network Coordination & Collaboration Chair with panellists:
Carolina Cipres, ZLC
Eric Ballot, Mines Paris Tech
Sergio Barbarino, P&G
Selim Tansug, Unilever
16:05 – 16:20 Announcement of Winners by the Selection Committee
16:20 – 16:30 Summary and closing remark
Recording of the event
Download the Press Release for the Announcement of the First ALICE Innovation Award: 
Press Release for the Announcement of the first ALICE Award Winners
Download the Cloud Report on Logistics Coordination and Collaboration: 
BOOSTLOG_D2.2 Cloud report – Coordination and Collaboration_final
More information:
Visit BOOSTLOG webpage: https://www.etp-logistics.eu/projects/
Press release "First Call for Submission of Implementation Cases of EU funded R&I projects for the ALICE Logistic Innovation Award" here
Brochure "Call for Submission: Implementation Cases on Logistics Coordination & Collaboration" here
You may also contact Yanying Li, ALICE Head of Programmes and Knowledge Management
| | |
| --- | --- |
| | Activities performed in the frame of BOOSTLOG Project, "Boosting impact generation from research and innovation on integrated freight transport and Logistics system", that has received funding from the European Union´s Horizon 2020 research and innovation Programme under grant No 101006902 |
---
---
Back to overview