Call for Implementation Cases on Realising the Concept of Physical Internet
Friday, April 28th, 2023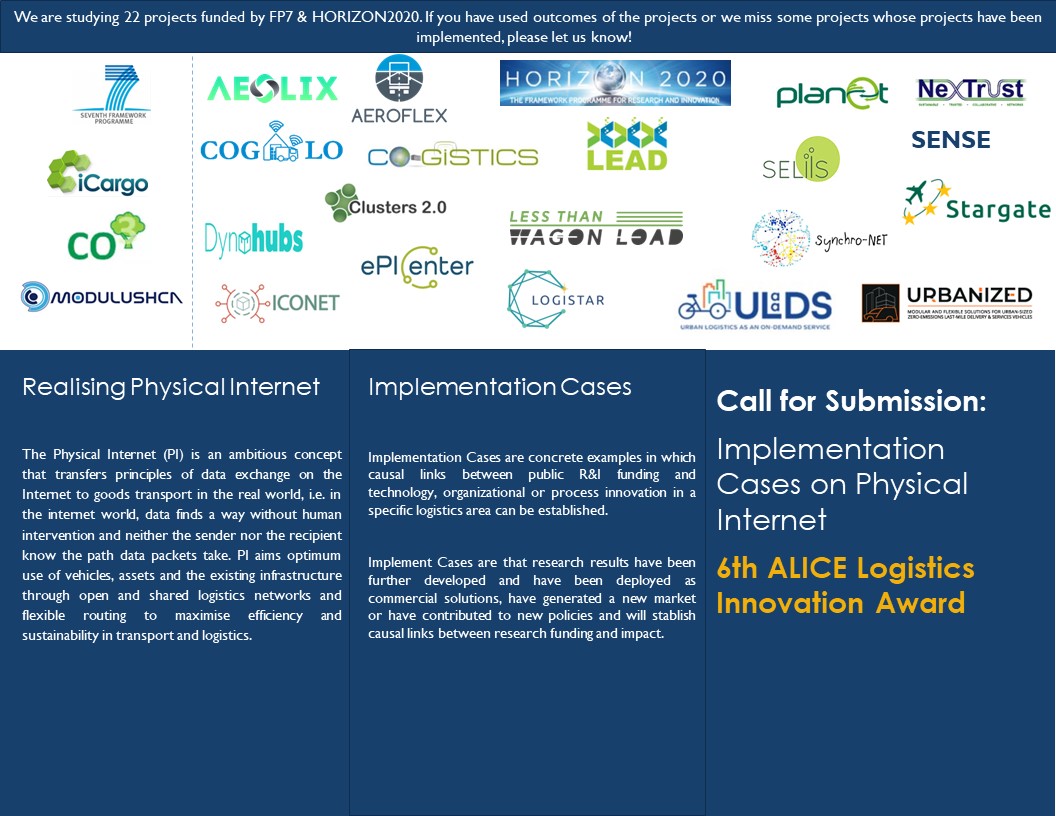 Physical Internet (PI) aims at facilitating structural collaboration across logistics and supply chain actors achieving more efficient transport and logistics and supporting its decarbonization in an affordable way.
Physical Internet proposes to build open and universal standard processes and protocols facilitating interconnectivity and collaboration across supply chain actors to maximize the use of vehicles, assets and the existing infrastructure.
More information on Physical Internet
We open the call to look for concrete examples in which R&I projects' results have been further developed and have been deployed as commercial solutions, have generated a new market or have contributed to new policies or regulations. The 6th call focuses on realising the concept of Physical Internet.
Submission Open: 27 April 2023  
Submission Close: 18 May 2023
Implementation Cases
Implementation cases are concrete examples in which causal links between public R&I funding and technology, organizational or process innovation in a specific logistics area can be established.
Realising the Concept of Physical Internet
The Physical Internet (PI) is an ambitious concept that transfers principles of data exchange on the Internet to goods transport in the real world, i.e. in the internet world, data finds a way without human intervention and neither the sender nor the recipient know the path data packets take.
You may download the Brochure Call for Implementation Cases on Realising the Concept of Physical Internet for further details.
More information:
| | |
| --- | --- |
| | Activities performed in the frame of BOOSTLOG Project, "Boosting impact generation from research and innovation on integrated freight transport and Logistics system", that has received funding from the European Union´s Horizon 2020 research and innovation Programme under grant No 101006902 |
---
---
Back to overview