Oct 27, 2022
ALICE – POLIS Webinar Series #4: Making Construction Logistics in Urban Areas more Sustainable
Friday, October 21st, 2022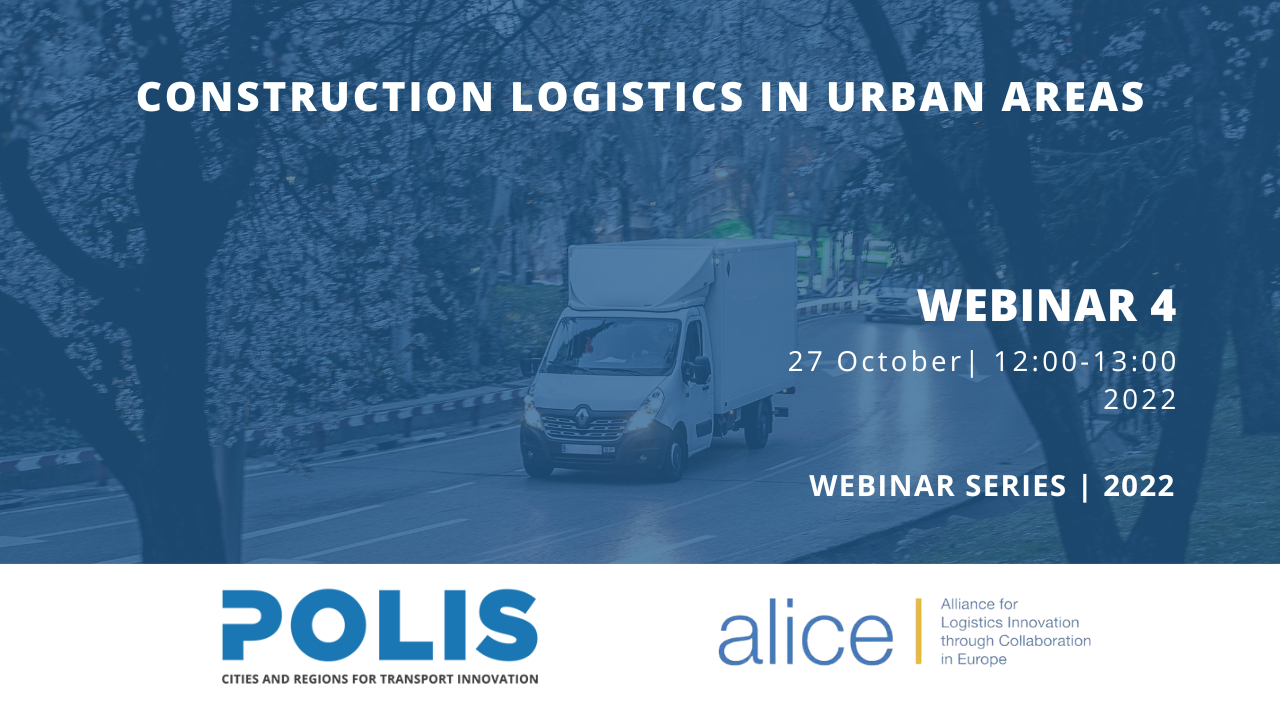 We invite ALICE and POLIS members to join the webinar to discuss how to make logistics for urban construction sites more sustainable.
Why are we talking about logistics for construction sites? 
Research into Urban Freight Transport has paid attentions to urban freight transport activities generated by market segments such as food, retail, or home deliveries. As cities are continuously growing – it is estimated by UN DES that by 2050, 68% of the world population will live in urban areas. Significant investment in construction of new buildings and refurbishment of old buildings will be essential. However, relatively little attention has been paid to the transport of goods to and from construction sites in urban areas even though transport of construction materials represents up to 30% of freight movements in cities and even more in terms of pollutant emissions according to a recent research.
To reduce negative impacts of urban construction sites, efforts into better transport and traffic planning around a construction sites to manage freight flows are needed. City authorities can proactively manage the process during the planning phase of a urban construction project. A collaborative approach to consolidate construction materials presents potential benefits to construction companies and public authorities by reducing traffic flow and cost. 
This webinar aims to:
Raise awareness of research and practices into this topic
Share knowledge and good practice
Highlight the contribution of Inland Waterway Transport to move more efficiently and sustainably goods including construction materials and waste
Agenda:
12:00 – 12:05: Welcome by Raffaele Vergnani, Coordinator of the POLIS Working Group on Urban Freight, POLIS
12:05 – 12:20: "Construction logistics a part of urban development – how can we decrease emissions and disturbances through collaborative planning", Prof. Anna Fredriksson, Senior Associate Professor at the KTS department Linköping University (Linköping presentation)
12:20 – 12:35: "The impact of a consolidation hub for building materials on the logistics towards construction sites", Ruben Guisson, MooV Manager, VITO (MooV presentation)
12:35 – 12:50: "Overview of results achieved by Smart Track for Waterways (ST4W) project", Yves de Blic, Multitel; "Connecting waterways with logistics in urban areas" (ST4W presentation

)

, Carl Verhamme, Catena/Via Palletto (Via Palletto presentation)
12:50 – 13:00: Discussions for future actions
For further information on ALICE & POLIS events please contact: yanying.li@etp-alice.eu
---
---
Back to overview