ALICE Logistics Innovation Award on Logistic Nodes Announced!
Friday, November 4th, 2022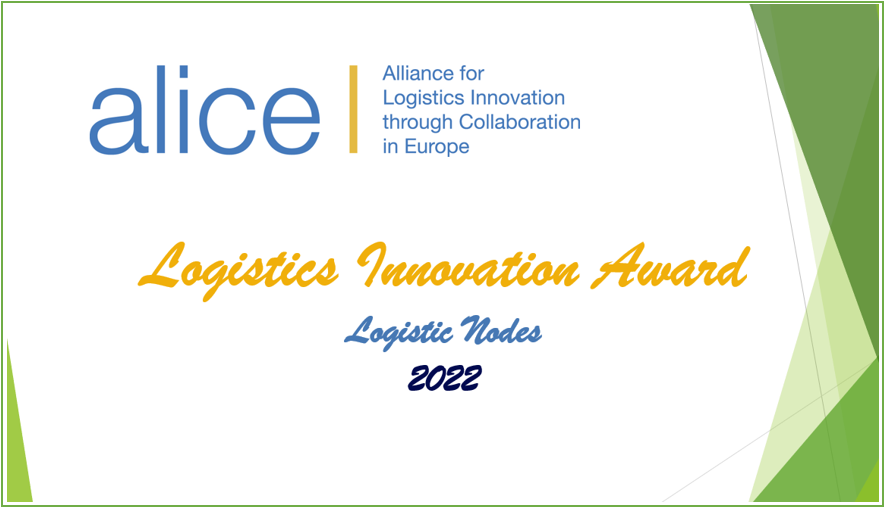 The Award Selection Committee has chosen the winners of the third ALICE Logistics Innovation Award, dedicated to Logistic Nodes. The Selection Committee has decided to give awards to four categories: Gold Award; Award for disruptive technology; Award for market impact; Award for sustainability
The Winners
Download the Logistics Nodes – Cloud Report describing in detail the winners' achievements
Download the Press release ALICE Award Announcement
About the Award:
The ALICE Logistics Innovation awards were organized in the framework of the BOOSTLOG project, aiming to recognize those companies and organizations that have successfully managed to transform knowledge generated in R&I–funded projects into innovations in the market, transformative changes in society and markets or implemented effectively as part of policies and policy guides.
The Selection Committee consists of five highly experienced experts:
Salvador Furió Pruñonosa, Innovation & Port Cluster Develop. Director at Valencia Port Foundation (chair of the session)
Kris Neyens, Manager of Internationalisation at VIL Flanders Innovation Cluster
Giuseppe Dall'Asta, Managing Director at Interporto Bologna SpA
Lamia Kerdjoudj, Secretary General at FEPORT
Elvina Nowak, Project Manager at ALICE
Evaluation for the ALICE Logistics Innovation Award is based on three criteria: Impact on Nodes, Society and Market, Scalability and growth potential and Innovation.
More information:
Press release "First Call for Submission of Implementation Cases of EU funded R&I projects for the ALICE Logistic Innovation Award" here
---
---
Back to overview