Mar 08, 2023
Virtual Breakfast to celebrate International Women's Day: Women forging change in urban logistics and building a sustainable future
Friday, February 3rd, 2023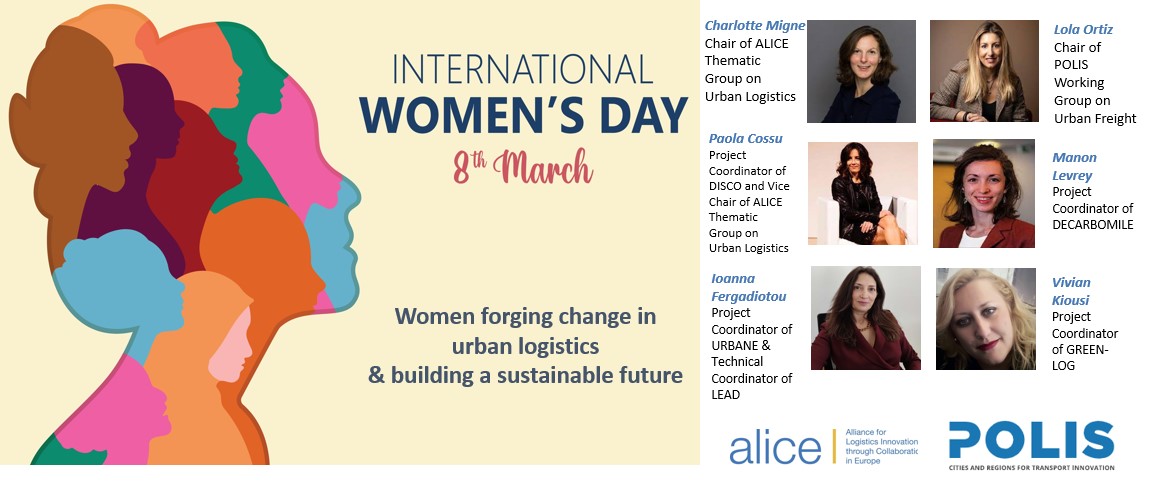 9:00 – 10:00 (CET), 8th March 2023, online
The event aims to highlight EU-funded innovation projects in urban logistics led by women. The event will be co-chaired by Charlotte Migne, Chair of ALICE Thematic Group on
Urban Logistics & Lola Ortiz, Chair of the POLIS Working Group on Urban Freight, and will pitch:
Ioanna Fergadiotou, Project Coordinator of URBANE and Technical Coordinator of LEAD
Paola Cossu, Project Coordinator of DISCO, and Vice Chair of ALICE Working Group on Urban Logistics
Manon Levrey, Project Coordinator of DECARBOMILE
Vivian Kiousi, Project Coordinator of GREEN-LOG
To discuss:
Why are there so many women in the driving seat to make urban logistics more sustainable?
Does this gender proportion help in delivering positive impacts to advance gender equality?
If yes, how can we apply this to other topics in the transport sector?
This virtual breakfast is co-organized by ALICE and POLIS, and open to all urban logistics practitioners and beyond.
Everyone is welcome! Please register:
---
---
Back to overview