Understanding of current state of urban mobility and of main drivers of future change – SPROUT & ALICE together at TRA, 14th-17th November, Lisbon
Friday, October 28th, 2022
The rapidly changing urban mobility environment – characterised by emerging business models, new technologies, and disruptive innovations – represents a considerable challenge for urban mobility policy making. Previously tested urban mobility policy responses are not adequate to address the transition underway and to address today's societal challenges and issues related to citizens' everyday lives and businesses' requirements.
It is in this complex scenario that the SPROUT (Sustainable Policy RespOnse to Urban mobility Transition) project comes into action.
SPROUT is a project of real-life implementations, driven by six pilot cities backed by a robust academic support. The pilot cities tested different urban mobility solutions from which the project created understanding of the current state of urban mobility and of the main drivers of future change. The cities looked at likely impacts and operational feasibility, identify areas where policy interventions, such as revised regulations, will be needed and what policy response alternatives there are, and then tested and validated the pilot solutions and assess their financial, environmental and social impacts.
The overall objective is not just to prove out particular mobility solutions, but to create real improvements in the capacity of cities worldwide to think through their current and future mobility issues and build policy-making capacity at urban, national and international level.
The SPROUT Project has five main objectives

SPROUT key outputs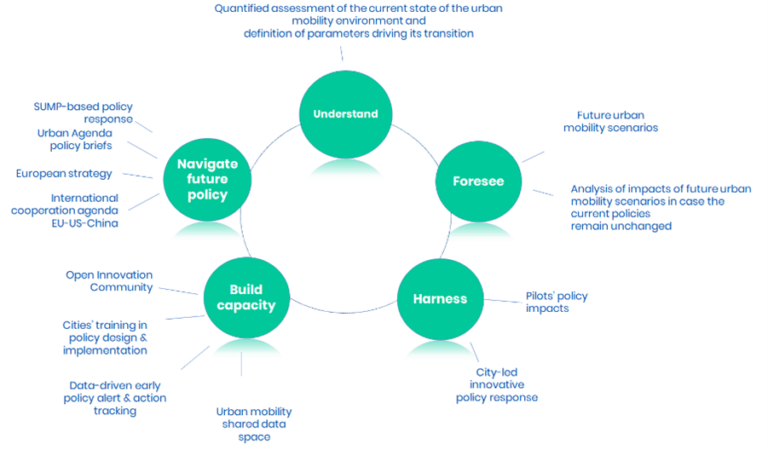 Looking forward to seeing you all at TRA, in the meantime learn more about SPROUT: https://sprout-civitas.eu/
SPROUT at TRA
SPROUT will showcase the results of the project at the ALICE booth and will welcome all people keen to know more, on:
| | |
| --- | --- |
| | This project has received funding from the European Union´s Horizon 2020 research and innovation Programme under grant No 814910. |
---
---
Back to overview