Oct 03, 2018
H2020 Training
Wednesday, July 11th, 2018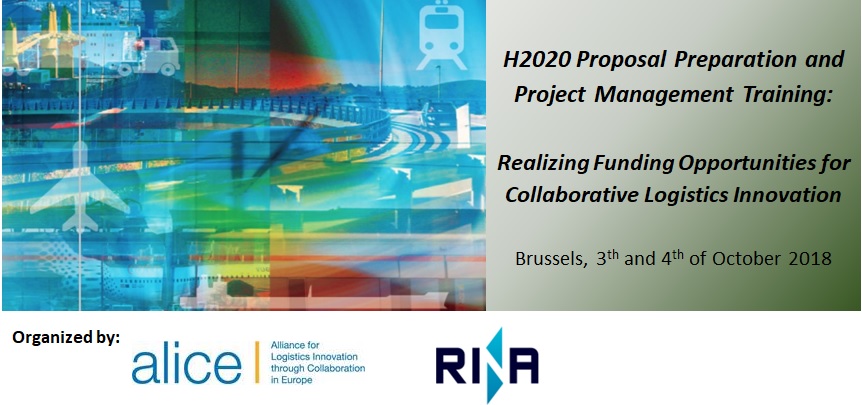 If the company you work for is a newcomer in the H2020 arena or you aim at a more prominent leading role in future projects, this Training is for you!
Based on the success of the previous edition and to accommodate the demand, this is an extended two-day course for a reduced group of trainees focussed on:
Preparing and submitting proposals to H2020 calls. In this comprehensive training, trainees will be briefed on key aspects of the proposal preparation: Identification of the call, definition of the project concept, identification of the partnership, writing of the technical part of the proposal, budgeting, administrative, financial aspects and submission. The training is based on a real topic and funding opportunity on logistics within the 2019 call Mobility for Growth. A potential project idea will be used to guide the trainees in the process.
H2020 Project Management. Trainees will be briefed on key administrative and financial management aspects including rules for participation, eligibility of costs and management of different typical cases and frequently asked questions in order to get good grounds for efficient and effective administrative and financial project management.
The Training content is structured into three parts:
the first part will introduce you to the H2020 and its calls, also giving you the fundamentals to identify opportunities, and how to integrate them into the company/organization strategies;
the second part of the training will address how to approach the different parts of a proposal preparation (i.e., excellence, impact and implementation) based on a real example and the expertise of the coaches.
the third part focuses on the administrative and financial aspects, from the budget preparation, to costs calculations, providing you with clear references and indications on how to deal and work with the participant portal for booth proposal preparation and project management;
The prices* of the full training including meals and materials are as follows:
| | | |
| --- | --- | --- |
| | By 5th of September | After 5th of September |
| ALICE Members | € 450 | € 525 |
| Non ALICE Members | € 650 | € 745 |
* The amount does not include VAT and will be added (21 %) when applicable. Contact us for deals on specific parts of the training (1 & 2 or 3)

The comments from participants in previous editions:
"Many interesting aspects, many 'secret tips' and useful advice for the proposal preparation"
"The slides were designed to be useful post-training reference documents"
"Very knowledgeable and high level experienced Tutors, they master the subject and know the tips and tricks. Very down-to-earth"
"The whole training was very informative and satisfactory due to a comprehensive and effective overview"
Pre-register by the 31st of July and get a 10 % additional discount!
For more information, detailed program and registration contact ALICE secretariat at: info@etp-logistics.eu
---
---
Back to overview