The challenges of changing towards a sustainable and integrated urban transport system – HITS & ALICE together at TRA, 14th-17th November, Lisbon
Friday, November 11th, 2022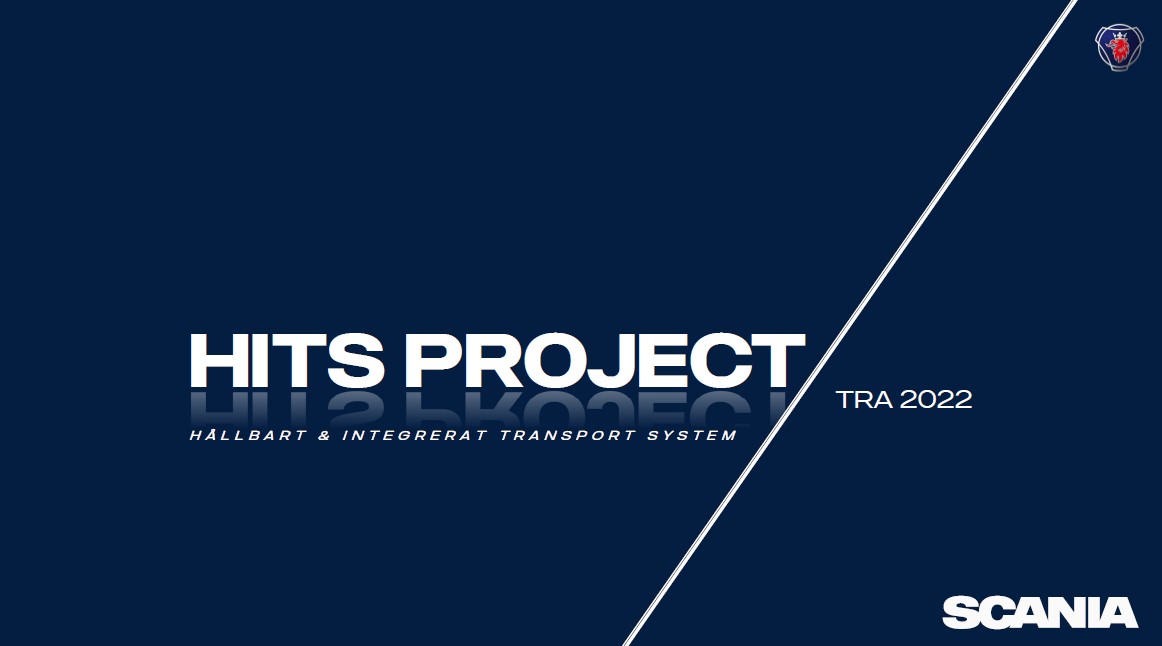 HITS (Sustainable and Integrated Urban Transport System) is a cooperative initiative between a number of different industries that aims to develop efficient transport solutions and create cleaner and safer cities. The project participants include property owners, city authorities, municipalities, engineering and logistics companies and research institutions. The project is led by Scania and the project coordinator is CLOSER. HITS is a 4-year project with the vision to "Understand and create the conditions for a sustainable transport system in the city"
The challenges of changing towards a sustainable society will become increasingly complex while the pace of change is being accelerated. The sustainable solutions of the future require increased cooperation between different actors as well as capacity for a rapid integration of new technology, methodology and new business models. The transport system in urban environments is already stressed and forwarders and transport companies are forced to meet customers' increased expectations for speed and flexibility by deploying an increasing number of vehicles with smaller load capacity such as vans (3.5 tonnes) and cargo bikes which in turn risk becoming part of the problem. We need to find system solutions with a high degree of freight consolidation (ie sized and well-stocked vehicles) as far as possible into city centers to reduce congestion, vehicle kilometers and energy use.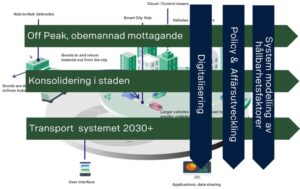 During the first 2 years several studies have been carried out, which have contributed to a better understanding of the challenges that exist. The objective for the two coming years is to start applying the knowledge by testing and evaluating them as simple prototypes, in real environments or through different types of simulations in order to thereby learn and refine the early concepts and future scenarios so that the tested solutions can rise to the "level of readiness" as well as how knowledge of how system integration can be developed in a safe and sustainable way.
Above all, it is important to learn more about the impact of business models and obstacles to creating sustainable transport systems. A possible transformation is that several parties can together create new sustainable values ​​in an ecosystem. Digitization is the clearest driving force (probe) for this development to take place.
Another important driving force is how policies are developed. Experience shows that it is not possible to find a solution that is suitable for all cities or to solve all challenges at the same time. We hope to, through broad collaboration and a testing and exploratory methodology, build knowledge that can increase the possibility of successful implementation projects, not only in Swedish cities but also internationally, where we want to see that the societal interests of cities can go hand in hand with a competitive development of the service and transport industry.
The areas we have found most interesting and will focus the project on are how
goods can be distributed energy-efficiently and sustainably during off-peak by electrifying transport, digitizing services and system integration between different parties so that data can be shared.
digital tools and cooperation between property owners, logistics companies and the city can enable the consolidation of goods flows into the city through dynamic and/or physical storage and transshipment points, as well as through policy development and in dialogue with the end consumer, developing recipient incentives for more sustainable consumption and delivery patterns.
can the transformation towards a seamless, sustainable and flexible delivery of goods with autonomous vehicles and automated reloading and unloading with connected load carriers take place in a sustainable way.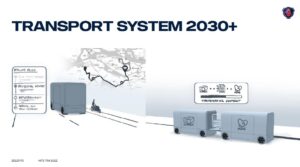 Schematically, one could describe the project structure as follows.
The consortia consist of Scania, KTH, Stockholms Stad, Södertörns kommunerna, Urban Services, Fabege, Atrium Ljungberg, Ragn-Sells, HAVI, Axfood, M Logistics, CLOSER, IVL, SSPA (RISE).
HITS at TRA
HITS will showcase the results of the project at the ALICE booth and will welcome all people keen to know more, on:
---
---
Back to overview