Sustainable Commercial Vehicles Buyers Questionnaire
Monday, September 19th, 2022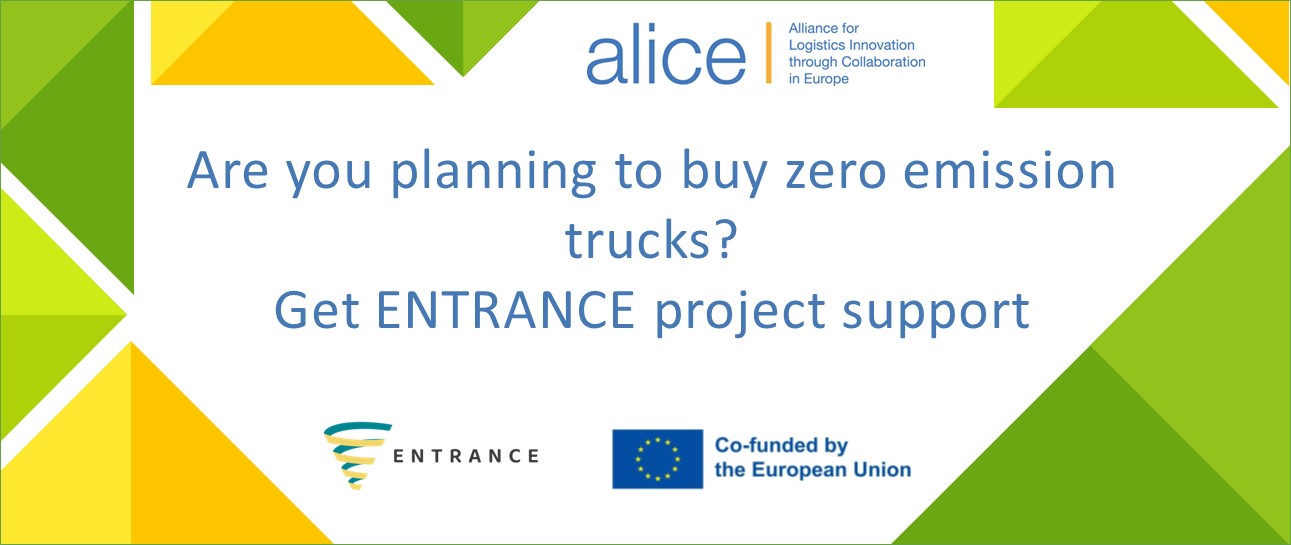 ALICE supported by ENTRANCE project is launching a questionnaire to gather interest from shippers, freight forwarders, logistics service providers and carriers owning fleets willing to transition road transport to zero emissions (Battery Electric Vehicles (BEV), Fuel Cell Electric Vehicles (FCEV) or hybrid BEV-FCEV).
As a follow up action, ENTRANCE may support respondents to:
Ease access for trials to first-of-a-kind and near to market Zero Emissions vehicles.
Aggregate demand of zero emission vehicles and work on collaborative purchase initiatives.
Sharing funding and financing schemes to facilitate transition in an affordable way to the parties interested.
Complementary to this buyers questionnaire, a market analysis and a survey targeting vehicle OEMs of this first-of-a-kind of these zero emission vehicles has been developed. PNO developed this market analysis including 128 models of BE and FCE vans and trucks that was presented in the webinar: Decarbonizing Road Freight Transport: Zero Emissions Vehicles availability roadmap. In this way, ENTRANCE facilitates the match-making between the demand and supply of innovative logistics solutions and equipment.
About ENTRANCE
ENTRANCE:  ENTRANCE offers a European Matchmaking Platform including off-line services designed to mobilise financial resources to accelerate the market access and scale up of "first of a kind" sustainable transport solutions, thereby reducing the European CO2 emissions and pollutants caused by the transport and mobility sector. The overall concept focus of the ENTRANCE project lies in the "supply-demand-finance" triangle that is envisaged for all transport and mobility modes and all relevant stakeholders.
More information on ENTRANCE and partners involved: https://www.entrance-platform.eu/
| | |
| --- | --- |
| | Activities performed in the frame of the ENTRANCE Project. The project has received funding from the European Union's Horizon 2020 research and innovation program under Grant Agreement N°101006681 |
---
---
Back to overview