State-of-the-art experimentation facilities and applications in real-life conditions. VITAL-5G & ALICE together at TRA 2022, 14th-17th November, Lisbon
Friday, November 4th, 2022
| | |
| --- | --- |
| | "With our participation at TRA2022 we look forward to connecting with colleagues from transport and logistics business and research areas and demonstrate how we can offer our assets to maximise their impact and in providing innovative products and solutions." Andreas Gavrielides, Dissemination and Communication and Quality Assurance manager |
ABOUT THE VITAL-5G PROJECT
The pan-European Transport & Logistics (T&L) eco-system is considered one of the main adopters of 5G, and as such, the successful transfer of 5G-empowered services from trials/pilot stages to production depends highly on the availability of flexible and intuitive tools and APIs for design, management and orchestration of their services. VITAL-5G prioritises this ambition and plans to overcome, through its intuitive and production-ready NetApps orchestration platform with open repository, various limitations that exist today for industry verticals keen to design and deploy T&L virtualised services in a 5G network. The VITAL-5G consortium has identified the following key challenges for adoption of 5G in production services by T&L industry verticals:
5G orchestration tools often maintain a network-centric vision, and very specific semantics (typical of the network domain) are used to specify network slices and related NetApp services. Network and associated virtualization-specific semantics for interconnections, interfaces, virtual CPUs, virtual RAMs, hardware acceleration, etc., prevail across service semantics (e.g. sizing to support a given number of users/flows, scaling behaviours upon user-defined thresholds, application specific monitoring parameters, etc.).
As occurred in many 5G PPP projects from Phase II and Phase III, a substantial mismatch of backgrounds exists between Telcos and Verticals in: a) where the network services can be deployed and trialled across the 5G, NFV, MEC sections of the network and how the various elements can be interconnected; and b) the vertical applications logic often designed to rely on a flat "always-on" IP connectivity among interconnected functional elements (e.g. backends, databases, web-portals, service busses, etc.).
A significant number of packages for 5G/NFV experimentation has been produced so far, but most of these elements describe network-only services (i.e. do not include Vertical NetApps) or apply to small trial experiments (i.e. use max 2 VNFs from Vertical sector) often realised with general purpose open source software (i.e. no use of production systems). VITAL-5G will deliver both vertical-specific and vertical-agnostic NetApps, that will be validated in real-life T&L scenarios.
Taking advantage of the deep understanding of these limitations, VITAL-5G has developed a flexible platform adapted to serve the specific needs of the T&L sector focused on the creation, deployment, management and validation of NetApps. The conceptual architecture of the VITAL-5G platform is illustrated below.
VITAL-5G operates on state-of-the-art experimentation facilities to validate T&L Vertical solutions and applications in real-life conditions. In particular, VITAL-5G offers experimental facilities in three T&L areas (Port of Antwerp, Danube River, Athens logistics hub) where application developers and service providers can test and validate novel services and applications in realistic and highly configurable 5G environments. These facilities have been built in previous R&D projects (i.e. 5G EVE for Athens/Danube and 5G-Blueprint for Antwerp) and/or derived from production 5G rollout initiative (i.e. 5G roll-out in Romania by Orange) and they have been upgraded to support 3GPP Rel.16 and extend radio coverage to the port and warehouse areas as part of technology roadmaps set by facility owners.
Three main use cases have been selected to showcase the capabilities of the VITAL-5G platform and NetApps for the T&L sector. Participating industry leaders and SMEs have selected these use cases with the aim to validate the most relevant and business-ready scenarios for use of 5G connectivity and virtualized services for (sea and river) port operations, warehouse logistics, complemented by road transport services. Moreover, the use cases will benefit from the associated facility technology upgrades at minimal cost, hence positioned to clearly showcase the added value of 5G connectivity for the T&L sector.
VITAL-5G platform is also ready to host third-party experimenters, which will be able to create new services, build new NetApps starting from the ones available in VITAL-5G catalogue and validate them interacting with the 5G infrastructure and the sensors and devices made available in the T&L sites. These 3rd party actors will allow to expand the validation of the VITAL-5G platform with closer-to-market NetApp scenarios and will significantly assist in providing a baseline for a T&L NetApps business ecosystem, which aims to expand from the three target facilities to many other ports in Europe. VITAL-5G discernibly aims at forming a sustainable T&L ecosystem that is incentivized to use 5G technologies, will foster business innovation, ease synergies among key partners, and will influence the standardization of virtualized components and interfaces.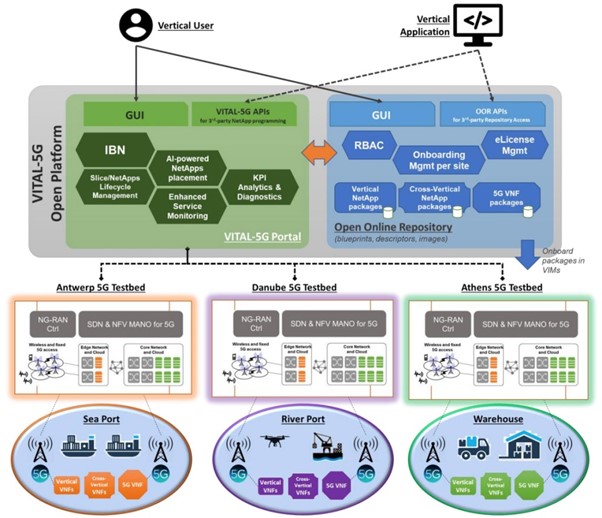 VITAL-5G PROJECT OUTPUTS
The VITAL-5G project has developed a full set of assets and tools to facilitate and speed up the development of new NetApps, delivering an open, virtualized 5G-enabled testing and validation experimentation facility, which provides the means for relevant T&L stakeholders to deploy and benchmark the performance of their innovative NetApps on top of a 5G network. In this direction, VITAL-5G is fostering the development and sharing of novel vertical-specific and vertical-agnostic NetApps for the T&L sector by supporting open-source tools and an open repository for flexible and interoperable deployment through the VITAL-5G platform.
VITAL-5G is providing customized and virtualized access to network and T&L infrastructure (port, warehouse, equipment and facilities) resources, enabling dynamic tailor-made service provisioning to third parties (such as SMEs) to validate their applications over resources otherwise unavailable to them, thus boosting confidence prior to actual service deployment. This will help in demonstrating the benefit and showcase the added value of 5G connectivity for advanced transport and logistics services across European roads, seas and rivers, creating a functional value chain for highly automated freight transportation. Novel business models will involve open, integrated and cooperative services across multiple domains, addressing specific T&L use cases and justifying the investment from key stakeholders. This will further foster the development and advancement of a T&L centred ecosystem, which will drive the European integration of 5G services into the T&L vertical, by bringing together key vertical stakeholders (port authorities, road operators, MNOs, etc.) with SMEs developing cutting-edge technology and applications.
VITAL-5G AT TRA2022
At TRA2022 VITAL 5G will present and seek stakeholder input on:
The VITAL-5G platform, with our three T&L facilities in Antwerp, Galati and Athens, ready to host 5G trials for T&L services and open to third parties for executing their own experiments in the realistic context of various 5G-enabled environments, like a river port, a sea port and a warehouse. (presentation is available here)
The VITAL-5G tools to facilitate the development and testing of NetApps for the T&L sector and our NetApps open repository to build and compose new services (presentation is available here)
The VITAL-5G outputs and their significance to the T&L community and other relevant target groups
The possible applications and synergies that can be developed
FIND OUT MORE AT:  https://www.vital5g.eu/
---
---
Back to overview