Jun 25, 2020
Physical Internet Webinar: SONAE final mile delivery Living Lab within ICONET project
Saturday, June 13th, 2020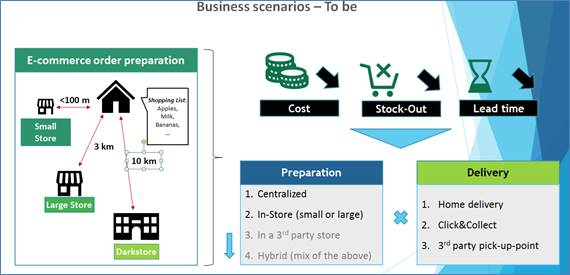 25th of June from 9.30 to 11.00 hours (CET)

Within this ICONET project Living Lab, SONAE, a multinational company managing a diversified portfolio of businesses in retail, financial services, technology, shopping centres and telecommunications across all continents and with presence in more than 62 countries, is testing the implementation of Physical Internet supply chain strategy for final mile delivery within the context of their move into omnichannel and online retail. The webinar will present the advances of the research taking place in this Living Lab
WEBINAR AGENDA
Project Intro: Gerasimos Kouloumbis, INLECOM, ICONET Project Director
Description of Living Lab Business Case: Angela Cruz, Project Manager at SONAE
Short introduction of SONAE group and Sonae MC, focusing on the businesses areas which are currently being analyzed in LL3 (e.g. food products, home appliances, para pharmacy, and pet goods and services).
Simulation Models applied to this Living Lab: David Cipres, Responsible of Data Analytics, IoT and Blockchain applied to industrial and logistics processes at ITAINNOVA
The effect of PI on this LL has been evaluated with a multi-agent simulation model. The simulation in this Living Lab is focused in the evaluation of the efficiency of the PI concepts in an eCommerce distribution network. In particular it compares multiple routing and preparation alternatives to assess the best option to fulfil an order in terms of cost, lead time and stock out, considering different distribution networks, from different companies.
Iconet Services (Routing service): Gabriele Ranco, Data Scientist at IBM Ireland
Within the research, there is a requirement to integrate machine learning into operational optimization components of a Physical Internet node.  In this context it is crucial that these nodes are capable of efficiently routing and shipping containers dynamically to respond to the demand of the global market. Within the ICONET project we have identified warehouses, shops, and storage/marshalling yards within seaports as "PI nodes" and designed solutions for optimizing their storage and docking operations. In particular,  IBM is working on the application of unsupervised and reinforcement learning techniques in order to efficiently store and pack goods.
Conclusions for Living Lab: Angela Cruz

The work developed and the benefits of ICONET in the commercial environment.
Further steps
Webinar Speakers in brief:
Gerasimos Kouloumbis
Program & Delivery Director at INLECOM
| | |
| --- | --- |
| | Makis Kouloumbis is Inlecom's Program & Delivery Director. Holds a MSc in Information Systems Engineering, an MBA, a Master's Certificate in Project Management, a BSc in Informatics, and he is PMP certified and a PM Instructor since 2002. Has over 19 years' experience in managing and delivering complex global IT and EU Research projects, working as Portfolio or Senior Project Manager in high demanding and disciplined environments, such as Hewlett-Packard, PwC and EU's H2020 and FP7. He is currently the ICONET project manager, with ultimate goal to explore and create innovative PI network services that optimise cargo flows against throughput, cost and environmental performance. |
Angela Cruz
Project Manager at SONAE
| | |
| --- | --- |
| | Angela graduated in Economics at the University of Porto, with MSc in International Management by the University of Lisbon. Currently, she is project manager at SONAE, at the Granted Projects Department. Angela has over 7 years' professional experience in the area of innovation and management of R&D projects, both at the corporate level as well as at a renowned R&D institute, having already participated in multiple projects, both at national and European level. She is a collaborator of the SONAE group since January 2017, having worked with several companies of the group from different activity sectors (e.g. Food retail, Telco, Cybersecurity). |
David Ciprés
Responsible of Data Analytics, IoT and Blockchain applied to industrial and logistics processes at ITAINNOVA
| | |
| --- | --- |
| | David holds a PhD in Industrial Engineering from the University of Zaragoza in integrated logistics process planning. He has been working at the Instituto Tecnológico de Aragón (ITAINNOVA) for more than 15 years on projects related to the application of technology to the improvement of industrial and logistic processes. Currently he is responsible for the Research Line of IoT, Blockchain and Data Analytics applied to industrial and logistic processes. His main research areas are simulation, modelling and optimization of logistics processes, supply chain management, warehouse operations management and demand forecasting. David has participated in many national and European logistics R&D projects throughout his career since 2000 in automotive, manufacturing, transportation and retail companies. |
Gabriele Ranco
Data Scientist at IBM Ireland
| | |
| --- | --- |
| | Gabriele is a Data Scientist with IBM Ireland, where he has worked since 2015. During his time in IBM Gabriel has developed and deployed cognitive solutions for the IBM Telco analytics team before joining the IBM Ireland Innovation Exchange as a Senior Data Scientist working on public safety and law enforcement use cases for AI on project ASGARD which was funded under the EU H2020 framework.  Gabriele  holds a PhD in Econometrics, Markets and Institutions  from the  IMT Institute for Advanced Studies, Lucca (2015) and a Masters' Degree in Theoretical Physics from Universita' degli studi di Trieste (2010). He was awarded a scholarship from the Erasmus program to conduct his PhD  Research focusing on the interactions between financial markets and social media activity. Gabriele's research interests include Statistical physics, deep learning models , big data analysis, natural language processing and econometrics. Gabriele has been first author on several papers and is an IBM inventor having submitted his first patent in 2019. |
Powered by ICONET project, New ICT Infrastructure & Reference Architecture to Support Operations in Future PI Logistics Networks  (https://www.iconetproject.eu/)

and
SENSE, Accelerating the path towards Physical Internet (https://knowledgeplatform.etp-logistics.eu/)
| | |
| --- | --- |
| | Activities performed in the frame of SENSE "Accelerating the Path Towards the Physical Internet". The SENSE project has received funding from the European Union´s Horizon 2020 research and innovation Programme under grant agreement No. 769967. |
---
---
Back to overview