LOGIMATIC project joins ALICE TRA 2018 Booth, 16th-19th April, Vienna
Tuesday, January 23rd, 2018

"We expect to engage with a number of interested stakeholders to share our learnings and outcomes" says Josep Maria Salanova (CERTH & LOGIMATIC communication chief).
LOGIMATIC Project will be showcased in TRA 2018 ALICE Booth. LOGIMATIC proposes an ad-hoc advanced location and navigation solution based on (the tight integration of) GNSS and onboard local sensors to enable the automation of existing port vehicles with a significantly lower cost which will allow short-medium term investments until the whole port fleet is renewed with totally autonomous vehicles in the long term.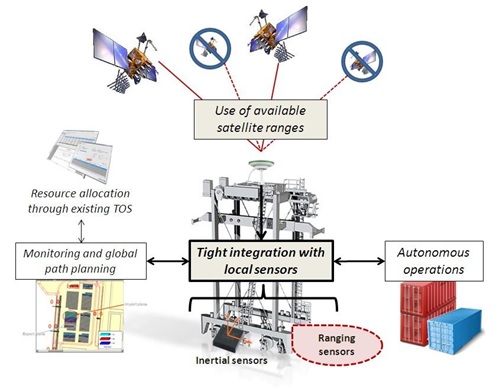 Figure. LOGIMATIC concept
In TRA2018 ALICE booth, LOGIMATIC status will be presented, including the technical solution adopted, the modifications done to the vehicle and the sensors added. In addition, the fleet management algorithm will be presented together with its integration into the existing Terminal Operation System. Finally, the simulation environment built for testing some of the scenarios will be also presented. In addition to the ALICE stand, a poster with the details of the fleet management algorithms will be presented at the congress.
Main outcomes:
Hybrid positioning solution based on the tight integration of EGNSS and on board sensors: Develop an advanced automated navigation solution based on the integration of Global Navigation Satellite Systems (GNSS) and sensors onboard the SC vehicles.
GIS-based yard transport logistics planning and monitoring system: Implement a GIS-based control module compatible with existing Terminal Operating Systems (TOS) for optimized global (yard level) route planning and fleet management. The module's objective is to offer efficient transport logistics within yard operations and compensate for the loss of local driver intelligence
GNSS cyber-security module: Implement security mechanism in order to detect and avoid spoofing and/or jamming attack, this makes the whole system more reliable to the cyber-attack.
A simulation tool available to plan the necessary automated resources of a port terminal and assess their impact in the efficiency in the operations: Assess the impact of application of such automated approach at large scale through simulation.
A validated and tested cost-efficient positioning, navigation and planning solution for the design and integration of automated port terminals: Integrate, validate and demonstrate the proposed solution in a real port yard.
Figure. LOGIMATIC Console in the vehicles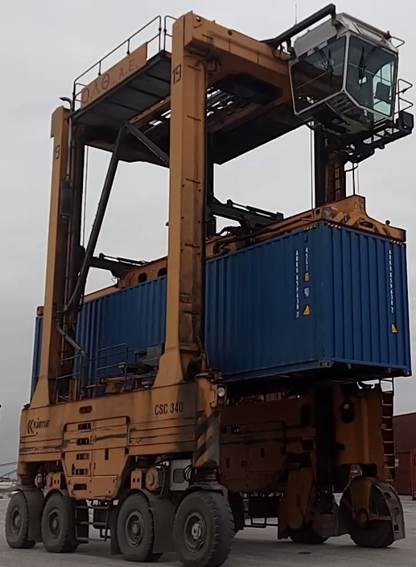 Figure. Vehicle converted to autonomous
---
---
Back to overview