LEARN project joins ALICE TRA 2018 Booth, 16-19 April, Vienna
Friday, February 9th, 2018
"At TRA we wish to connect good research with businesses wanting to calculate and reduce logistics emissions across their global supply chain"

Sophie Punte, Executive Director, Smart Freight Centre and coordinator of the LEARN project
ABOUT THE LEARN PROJECT
Businesses that measure their emissions have the opportunity to make informed decisions that lead to improved efficiency and reduced emissions. The Logistics Emissions Accounting and Reduction Network project (LEARN) empowers business to reduce their carbon footprint across their global logistics supply chains. Logistics emissions measurement, reporting and verification (MRV) is improved and accelerated by LEARN in four ways:
Provide support to companies through guidance, training & education, and develop a recommended blueprint for a label
Test and validate with companies the practical applicability of emissions MRV and a label in complex multi-modal logistics settings
Promote and facilitate supportive policy and research
Develop and involve a LEARN multi-stakeholder network to maximize business uptake of carbon accounting and reduction
LEARN partners will work closely with related organizations, initiatives and already existing networks. This includes the Global Logistics Emissions Council (GLEC), a voluntary partnership of companies, industry associations and programs. The LEARN project builds on and seeks to improve the 'GLEC Framework for Logistics Emissions Methodologies' that combines existing methods and fills gaps, making carbon accounting work for industry. For the first time, emissions can be calculated consistently at the global level across all transport modes and transhipment centers.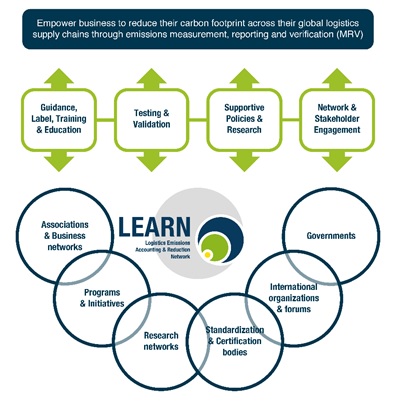 LEARN PROJECT OUTPUTS
Provide support to companies to measure, report and verify emissions and use data to make decisions
Guidelines for methodology application and verification combined with reporting templates
Training courses in three languages for carriers, logistics service providers and cargo owners
Blueprint of label requirements to reward companies based on consistent emissions accounting and reduction efforts, building on existing labels
Test, validate and evaluate emissions calculation and verification with companies in complex multi-modal logistics settings
Practical applicability of emissions calculation and verification
Feasibility of data exchange between logistics supply chain partners for calculation of shipment-level emissions
Calculation requirements for a label based on greenhouse gas emissions
Promote and facilitate supportive policies and research
Overview of gaps in methodology, data quality and exchange challenges, and requirements for a label
Recommended research agenda for gaps, challenges and future label development
Recommended priorities for government and industry on incorporating carbon footprinting into policy making
Develop and involve a LEARN multi-stakeholder network to maximize business uptake of carbon accounting and reduction
Active stakeholder involvement in LEARN building on existing initiatives and networks
International Workshops with companies and other stakeholders for input and dissemination
Marketing and communication on activities, outputs and network during and beyond the LEARN project
LEARN AT TRA
At TRA we will present and seek stakeholder input on
Draft guidance, training courses and recommendations for a label blueprint
Interim results from testing emissions calculation and verification with companies
Research and policy recommendations to make emissions accounting and verification easier
---
---
Back to overview