KALEIDO Launches a new acceleration program for startups in the Logistics Sector
Tuesday, May 10th, 2016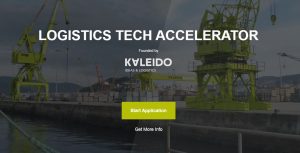 AN INTERNATIONAL PROGRAMME THAT EMPHASISES ONE MORE STEP ON THE OPEN INNOVATION ECOSYSTEM, WHICH THE COMPANY IS DRIVING
Kaleido together with RocketSpace launches the first acceleration programme for startups in logistics, named "Logistics Tech Accelerator". This initiative will connect logistical challenges of companies with tech and disruptive Startups. Its purpose is to promote industrial innovation in the sector as well as combine Kaleido tech approach and its Open Innovation Ecosystem with the startups environment knowledge of RocketSpace.
"Logistics Tech Accelerator" is part of the Open Innovation Ecosystem that Kaleido drives, its main objective is to identify and put together the expertise and knowledge of various companies, organizations and the best startups, assuming together the challenge of rethinking logistics.
Since 2008, Kaleido has maintained on building its innovative history, applying technology on its activity always aiming for logistics efficiency. They have continued developing other products and services, which add to its portfolio. The unique approach to business allows them to offer tailored solutions, the most relevant milestone being the recent achievement of its Open Innovation Ecosystem.
"A tech approach to all logistics projects is a must and part of our core business," said Xoán Martínez, CEO of Kaleido. To accelerate our initiatives, it's critical to evolve toward an open innovation approach where we can pair our global logistics knowledge with the industry's brightest startups to create cutting-edge tech solutions."
This four-month programme challenges the startups to accelerate their projects in order to achieve scalable and measurable results. In addition, it will provide acceleration, piloting, and plunge in the real market, training, relationships and funding rounds. Those startups interested in participate can apply or find more information here.
About Kaleido
Kaleido is a global logistics operator specializing in energy, automotive, food and retail and raw material transport worldwide, with a unique tech approach. As a key player in the logistics industry, the company's commitment to the Logistics Tech Accelerator aims to encourage the smart technology trends of transport & logistics. As a result of its ingenious, brave and committed attitude along with a strong R&D effort, they have created a stunning Open Innovation Ecosystem, which seeks clever answers to logistics problems. Kaleido is ALICE member since 2014. For more information, visit www.kaleidologistics.com.
About RocketSpace
RocketSpace is a technology campus headquartered in the heart of San Francisco. Since 2011, the company has been helping tech entrepreneurs, startups and corporate innovation professionals bring the future to market. The company offers services to its members including programming, consulting, events, and office-as-a-service, which together create the perfect ecosystem and community for innovation to thrive. Select startup alumni include Uber, Spotify, Practice Fusion, and Leap Motion, and RocketSpace's roster of Corporate Innovation Services clients include Schneider Electric, Converse, Tata Communications, Royal Bank of Scotland, Pfizer Consumer Healthcare, Samsung, and ABinBev. For more information, visit www.rocketspace.com.
---
---
Back to overview