International Physical Internet Conference 2017 in a nutshell
Friday, September 8th, 2017
The international Physical Internet Conference was held in Graz, Austria, from the 3rd to the 6th of July.  +230 participants from industry, government and research shared ideas, learnings and good practices on the evolution towards Physical Internet.
This is a short summary of what happened in Graz and in particular, highlights of Plenary panels. All papers and presentations during this 3 days are available at: http://www.pi.events/IPIC2017/program
Not by chance, IPIC 2017 was organized in Austria. All participants got a very positive and strong impression on the support and commitment of Austria and its Government towards strategic development of Logistics and the Physical Internet. For further information on Austrian R&I activities in the field, you may have a look to their Vision explained in a video by the Austrian Federal Minister for Transport, Innovation and Technology, the 11 short videos of respective PI running projects or read a full report on Mobility of the Future Preliminary Results – Mobility of Goods.
From ALICE, we challenged all attendees and the Physical Internet Community to speed up the process towards the Physical Internet. We cannot wait until 2050! Physical Internet concepts should be in place much earlier (i.e. 2030?).
Benoit Montreuil shared his vision and the progress made in regard to the Physical Internet! (see presentation). He pointed out that Physical Internet will bring additional efficiency to logistics which could shrink the market, however, the role of Physical Internet operators (the Logistic Service Providers of the Future) will be extended in the value chain having a positive overall increase in the market size.
Prof. Rod Franklin (KLU & ALICE Vice-Chair) provided an overview on the key role of Intralogistics in the Physical Internet pointing out the need for standards (modular units, communication protocols, data sharing, etc.) so current proprietary transport and logistics networks can be interconnected making actual proprietary networks work in an open ecosystem facilitated by interconnectivity (see presentation).
Pablo Gomez (FM Logistic & ALICE Vice-Chair) explained the framework in which Logistics Service Providers work today within a new business ecosystem that includes new companies and therefore opportunities and threats. Moreover, digitalization, industry 4.0, robotics, transport automation, etc. are changing or will soon change a lot of business practices. On his view, future LSPs will need to have the ability to collaborate and open their networks, or build networks of logistics networks for broader and extended use and services. Pablo also provided some good examples on how FM Logistic is addressing this opportunities and challenges (see presentation).
Start-ups and Ventures elevator pitch session was for the first time included in the IPIC program. All participants agree on the interest and clear contribution of the different companies pre-selected building their business case based on the concepts of the Physical Internet. Marlo- Mix Move Match, Convertible Trailers Concepts and Cleardestinations were awarded with IPIC Ventures Award and RIDDLE & CODE was selected by IPIC participants for the 1st IPIC Statups award.
Finally, we are proud of our ALICE Members participation in IPIC 2017 edition and we are already looking forward to the next edition in Groningen, the Netherlands, from the 19th to 21st of June 2018 (http://www.pi.events/)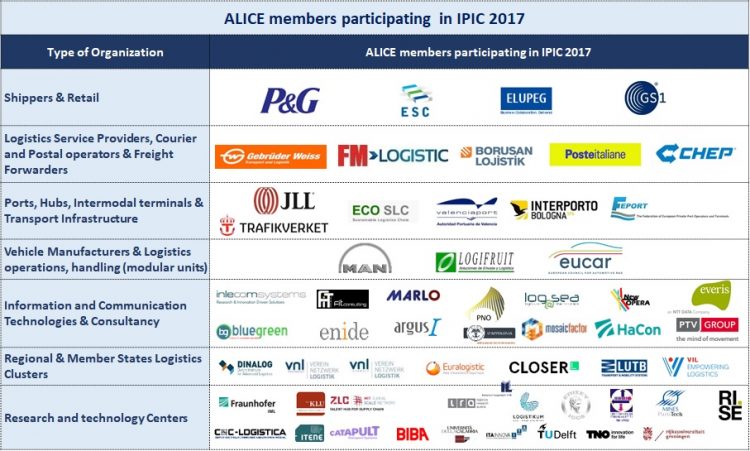 ---
---
Back to overview