Increasing the efficiency of global supply chains and reduce their environmental impact. EPICENTER & ALICE together at TRA, 14th-17th November, Lisbon
Friday, November 4th, 2022
"ePIcenter explores opportunities provided by AI, digitalisation, automation and innovations in freight transport and handling technologies, creating powerful solutions to enable resilient, efficient and greener supply chains."
Value chains have become longer and more complex as companies expanded around the globe. This has made their supply chains more vulnerable and uncertain. Disruptions are regular occurrences these days, creating a major impact on the logistics processes.
The ePIcenter project aims to increase the efficiency of global supply chains and reduce their environmental impact. It will offer a toolset of AI driven logistics software solutions and new transport technologies to manage the increasing complexity of supply chains.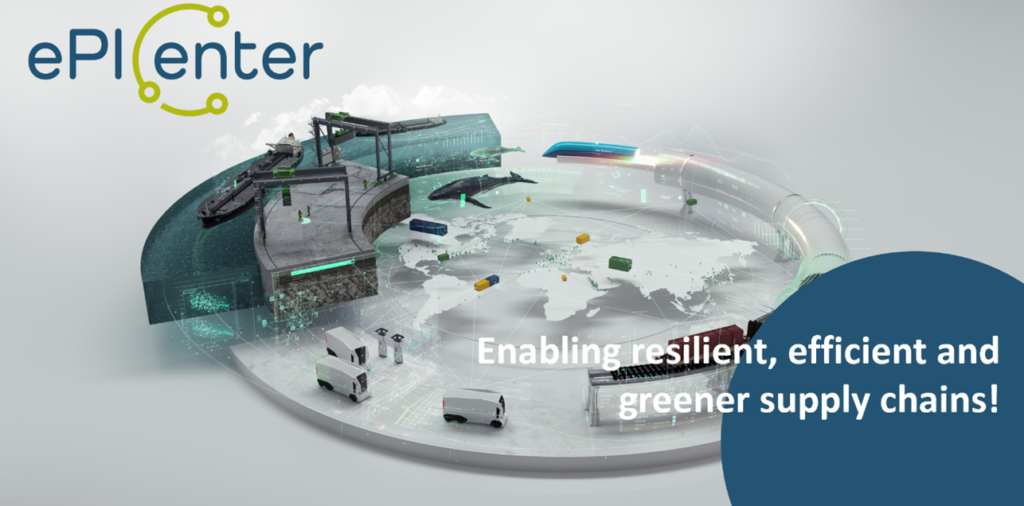 The innovations within ePIcenter include:
A data sharing layer to exchange data between supply chain stakeholders in a safe, secure and trusted environment.
A visibility solution combining the data to provide insights into various aspects such as carbon footprint monitoring, cargo status, exception handling, freight cost monitoring, etc.
Synchromodal Logistics Algorithms which will address a wide range of optimisation and planning problems.
Modular containers, providing a possible solution for container imbalances for 20' and 40' containers.
Autonomous Electric Vehicles, with the electric "pods" providing a green, driverless alternative to be used on the transport network.
Hyperloop development, and understanding its potential for providing a fast, safe and green option for transport.
A Freight Network Configuration Comparator, facilitating better understanding the impact of new technologies, new operating procedures, and new infrastructure on freight flows.
Environmentally Friendly Ship Routing & Propulsion, developing new ship routing and propulsion optimisation algorithms which reduce fuel usage, while also reducing GHG emissions and impact of shipping on whales.
Epicenter at TRA
Epicenter will showcase the results of the project at the ALICE booth and will welcome all people keen to know more, on:
Find out more at: www.epicenterproject.eu 
| | |
| --- | --- |
| | The ePIcenter (enhanced Physical Internet Compatible Earth Friendly Freight Transportation Answer) brings together a wide consortium of 36 partners in Europe and beyond. This project has received funding from the European Union's Horizon 2020 |
---
---
Back to overview