CRISTAL, a new European project focusing on the development of inland waterway transport and infrastructures
Monday, November 14th, 2022
Under the coordination of Lukaziewicz, the Technological Institute of Poznan, 15 partners including ALICE met on the 11th and the 12th of October at the University of Gdansk in Sopot for the kick-off meeting of the ambitious project Cristal. Cristal is the acronym for "Climate Resilient and environmentally sustainable transport infrastructure with a focus on Inland Waterway Transport (IWT).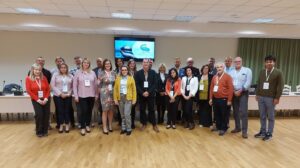 The inland waterways market share remains rather low (only 5.8 % in 2020 in Europe) which calls for additional innovation, new services and infrastructure development to become more attractive for end-users.
In that regard, the Cristal project focuses on the development of inland waterways transport and its infrastructure. The objective is to create an innovative technology for monitoring transport chains and directing further development of business models that include river transport as an integrated part of the whole multimodal chains. Cristal is also focusing on smaller and commercially underdeveloped feedwater routes which are crucial in the TEN-T corridor framework thus strengthening the role of IWT infrastructure as logistics nodes.
The project is co-created by 9 countries – Poland, Germany, Italy, Belgium, Hungary, the Czech Republic, Greece, France and the UK. Italy, France, and Poland will be piloting the development of new technologies and services for testing and implementing innovative solutions to strengthen the role of IWT in Europe.
PROJECT AMBITIONS:
Shifting 20% of freight traffic from land to inland waterways
Assessing 3 case studies and implementing results that will increase the reliability of transport by 80% using synchromodality and the integration of river transport in the multimodal supply chains
Increasing the operability and resilience of infrastructure to climate change
Provisioning of navigability in case of extreme weather conditions
Using recycled materials and reducing the environmental impact of inland waterway transport
Developing new governance models enabling cooperation across institutional, modal and national boundaries
Using technological solutions such as automatic buoys, sensors, business models, a decision support system and an open data platform for synchromodal resource planning
PROJECT CONSORTIUM:
(Coordination) Lukaziewicz PIT, ETP-ALICE, AGENZIA NAZIONALE PER LE NUOVE TECNOLOGIE, L'ENERGIA E LO SVILUPPO ECONOMICO SOSTENIBILE (ENEA), AGENZIA INTERREGIONALE PER IL FIUMEPO (AlPO), FRAUNHOFER, INFRASTRUTTURE VENETE SRL, SOGESCA s.r.l., UNIVERSITEIT ANTWERPEN, UNIWERSYTET GDANSKI, VOIES NAVIGABLES DE FRANCE (VNF), KTI KOZLEKEDESTUDOMANYI INTEZET NONPROFIT KFT (KTI), ETHNIKO KENTRO EREVNAS KAI TECHNOLOGIKIS ANAPTYXIS (CERTH), UNIONE ITALIANA DELLE CAMERE DI COMMERCIO INDUSTRIA ARTIGIANATO E AGRICOLTURA UNIONCAMERE (UniCA), UNIONTRANSPORTI SCARL, EUROMOBILITA SRO and  UNIVERSITY OF NEWCASTLE UPON TYNE.
Contact :
Alice, Elvina Nowak – Project manager
Project coordinator, Marta Kudziło – Deputy Director of the Logistics and Modern Technologies Center
marta.cudzilo@pit.lukasiewicz.gov.pl

| | |
| --- | --- |
| | This project has received funding from the European Union´s Horizon Europe research and innovation Programme under grant No 101069838. |
---
---
Back to overview