COVID-19: actions to prevent an ecological second wave in the Supply Chain
Sunday, September 13th, 2020
Learnings from the COVID-19 crisis on logistics and urban logistics
Authors: ALICE Urban Logistics Leadership Team: Charlotte Migne, FM LOGISTIC Group Sustainable Development Director; Paola Cossu, FIT CONSULTING CEO; Hans Schurmans, PROXIMUS leadership team & Director Logistics Operations, Lara Mika, Supervisor of e-logistics project SIMOVE and Fernando Liesa, ALICE secretary General.
Several supply chains patterns in place for the last decades have been and still are strongly questioned by the COVID-19 crisis. In the last few months and currently, we are living an unprecedented and very fast transformation and transition of our society and economy to new paradigms. Will these paradigms stay?, for how long and to what extent?
The aim of this ALICE working document is to have an ongoing discussion with our members and beyond on how COVID-19 crisis will influence short-medium and long lasting trends impacting urban freight and logistics, and asses to what extent ALICE roadmaps and vison will be reinforced or minimised in the development scenarios and which aspects need to be revisited. The main aspects addressed are:
Supply chain regionalization.
e-commerce and home delivery booming: logistics solutions for local e-commerce services are needed.
Resilient, agile, adaptable supply networks: regaining supply chain sovereignty.
Accelerated digitalization.
Growing need for environmentally and socially responsible solutions.
Unusual lack of congestion and easier access to parking but will this last forever?.
Toward a paradigm shift: shared an interconnected logistics networks based on low and zero emission transport solutions.
&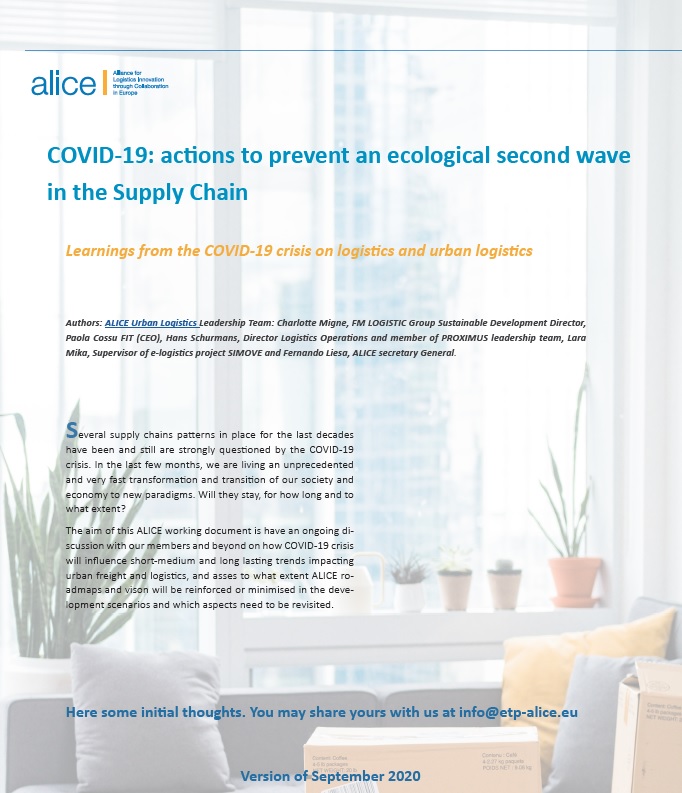 | | |
| --- | --- |
| | Activities performed with the support of SENSE project"Accelerating the Path Towards the Physical Internet". The SENSE project has received funding from the European Union´s Horizon 2020 research and innovation Programme under grant agreement No. 769967. |
---
---
Back to overview