Continuity in ALICE Executive Group with strong support from members to current management
Thursday, July 1st, 2021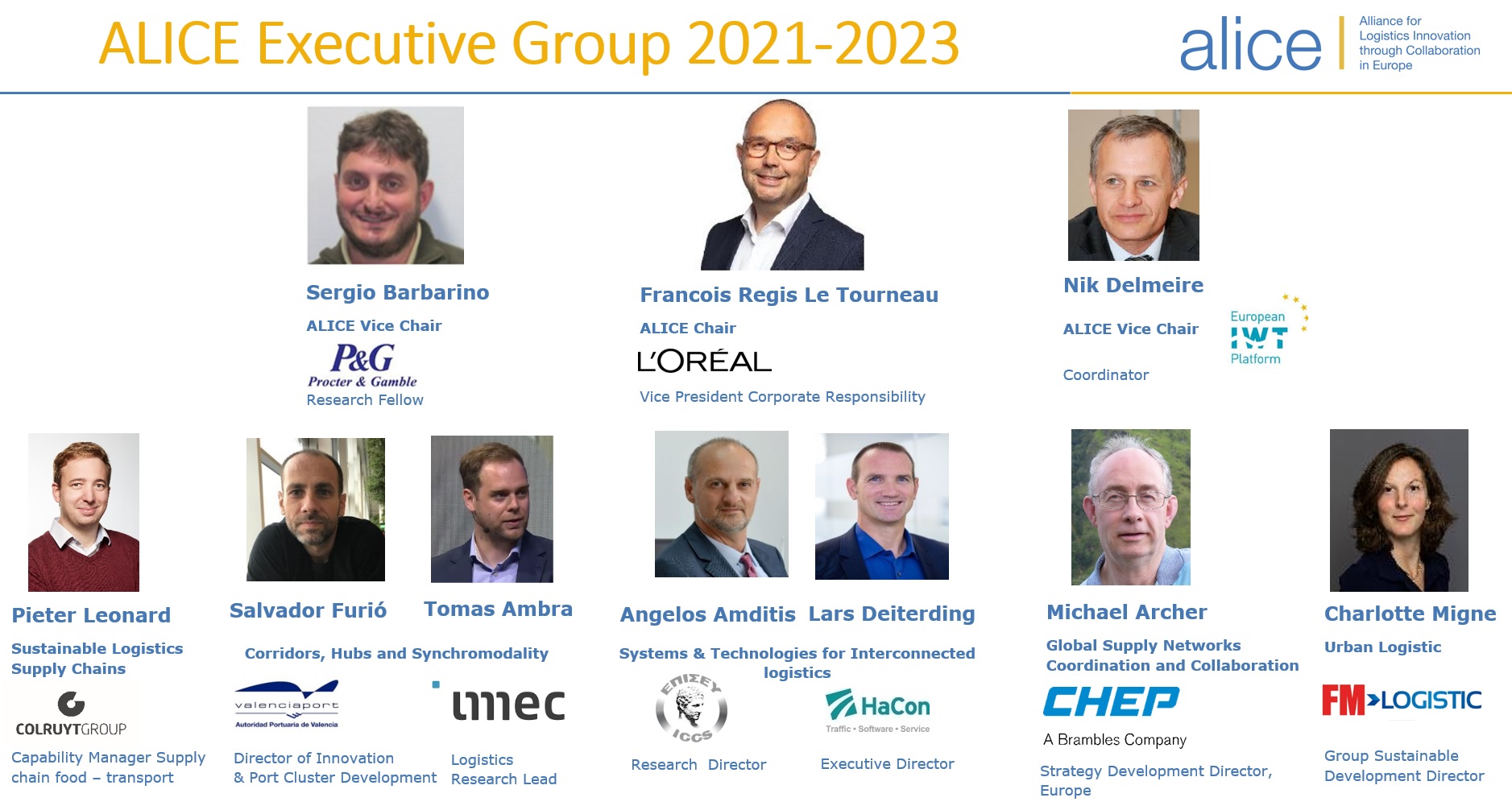 ALICE has renewed its Executive Group this week in the Spring Plenary.
ALICE members have strongly supported the candidature presented with important continuity in the leadership team. François-Régis Le Tourneau, Vice President Corporate Responsibility – L'Oréal For the Future L'ORÉAL has been re-elected as chairman of ALICE for the next mandate until July 2023.
François-Régis said:
After the first mandate, I am more and more convinced of the critical role that ALICE needs to play as The logistics and supply chain platform to enable the collaboration framework required across industries to transition towards zero emission logistics in an affordable and efficient way for society and timely to meet climate change objectives.

My ambition is to lever our current strategy to increase the dimension and capability of our organization and enlarge the base of industries, public actors and researchers, collaborating within ALICE in order to potentialize our influence range and build a more sustainable future together".
He will be supported by two vice-chairs and five thematic chairs.
Sergio Barbarino will continue to develop a key role in the executive group as Vice-Chair, he said:
At this critical time when logistic resilience is being continuously tested, while strong policy changes behind the Green Deal are being implemented, I would like to keep on giving my contribution on developing a logistic innovation agenda behind the Physical Internet and Decarbonization Roadmaps.
Nik Delmeire will continue as Vice-Chair. Nik has fulfilled many different roles related to supply chain management throughout his career. Additionally, he is very familiar with the Brussels' arena and has strong connections with many networks relevant for ALICE. Nik is a key promoter of the ALICE view on the "Truly Integrated and Green Transport System" and the "Physical Internet".
Since 2014, I strongly believe in ALICE's vision, mission and objectives. Realising these objectives will not only be beneficial for the different parties in the Transport System, but also for society as a whole. I am also convinced that through ALICE as well as through the EU-Inland Waterway Transport Platform, I can contribute in making Europe realise its ambitious Green Deal as well as its Smart and Sustainable Mobility Strategy.
The Executive group is completed by strong professionals in the fields they are chairing:
Pieter Leonard, Capability Manager Supply chain food – transport at Colruyt Group will step up and chair the renamed Efficient and Low Emissions Assets and Energy Group taking over from Sophie Punte that has recently moved to a new position. He has been supporting the group as vice-chair for the last 2 years.
Tomas Ambra, Logistics Research Lead at IMEC will step up from his previously vice-chair position and will join Salvador Furió, Director of Innovation & Port Cluster Development at Valenciaport Foundation as Corridors, Hubs and Synchromodality Co-Chairs.
Angelos Amditis, Research Director of ICCS and Lars Deiterding, Executive Director at Hacon will continue as Systems and Technologies for Interconnected Logistics Co-chairs.
Michael Archer, Strategy Development Director, Europe at CHEP was elected as the new Global Supply Networks Coordination and Collaboration Chair.  Alex van Breedam and Bart Vannieuwenhuyse hand over this position after 2 years in which the theme leadership team created a framework for different coordination and collaboration strategies to flourish. Alex and Bart will continue to be part of ALICE and support its development from a more focussed angle. News to come soon!
Charlotte Migne, Group Sustainable Development Director at FM LOGISTIC will continue as Urban Logistics Chair.
Alice members supported pretty much the candidates and strongly appreciated the contribution from Sophie, Alex and Bart in their mandates.
With the announced resignation of Sophie Punte Alice executive group lost not only an exceptional leader, but also reversed the progress done so far on gender balance. The issue was noted and several members of the newly elected executive committee and the chair committed to proactive remediation actions as well as planning ahead for the next election to have more diverse candidatures.
---
---
Back to overview