Clear targets and broad collaboration are critical to accelerate freight transport decarbonization – ALICE hosted by Colruyt group on 23rd of November 2022
Thursday, November 24th, 2022
Brussels, 23rd of November 2022
ALICE organized a technical visit hosted by Colruyt group and including the participation of leading industry members from retail, FMCG, logistics and postal/parcel delivery.
Colruyt Group presented the company roadmap towards decarbonization and shared the full commitment to zero-emission transport by 2035 as announced by the company earlier this week: Colruyt Group fully committed to zero-emission transport by 2035.
The company shared the main lines of action towards this objective and showcased their experience with testing zero-emission trucks: Battery Electric and Hydrogen for different applications: 44ton, rigids, delivery vans, yard tractors and sharing other areas in which by increasing efficiency they achieve both emission reductions and cost reductions.
In the session, Jorgo Chatzimarkakis, CEO at Hydrogen Europe presented an outlook on Hydrogen developments and the role of Hydrogen in Heavy Duty segment and acknowledged the need to collaborate with users and the importance of the connections to ALICE in the frame of the Memorandum of Understanding signed 2 years ago.
ALICE members could exchange views and challenges to address these bold objectives. First conclusion is that individual companies can not do this alone and collaboration is key. Additionally, there are many interdependencies across sectors (i.e. energy, infrastructure, vehicles, transportation companies and end users) that may benefit from collaboration to create the trust, reduce learning curbs and finally accelerate decarbonization in an affordable way.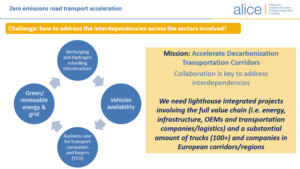 Many companies have gone under testing of a few vehicles and learning from that experience, but this needs to be tested and demonstrated at system level for a true acceleration.
We need to join forces and connect the pieces (i.e. different technologies and sectors) in lighthouse-integrated projects involving the full value chain. This needs to be facilitated by bold supporting programmes that will shorten the transition period until the break-even when zero emission trucks will be more competitive than fossil-fuelled trucks.
Andrea Condotta, Gruber Logistics and ALICE Efficient and low emissions assets and energies vice-chair shared his role as vice-president in 2ZERO partnership and liaison with ALICE mentioning the opportunities the partnership brings to companies on Research & Innovation to accelerate transport decarbonization.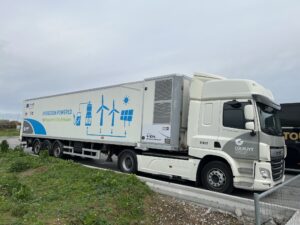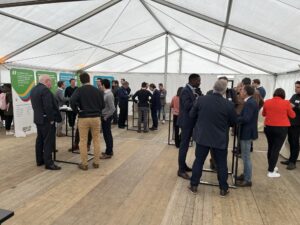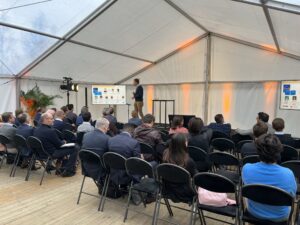 More information about this and other related events here.
---
---
Back to overview