Broad audience for ALICE at the TRA 2014
Monday, April 28th, 2014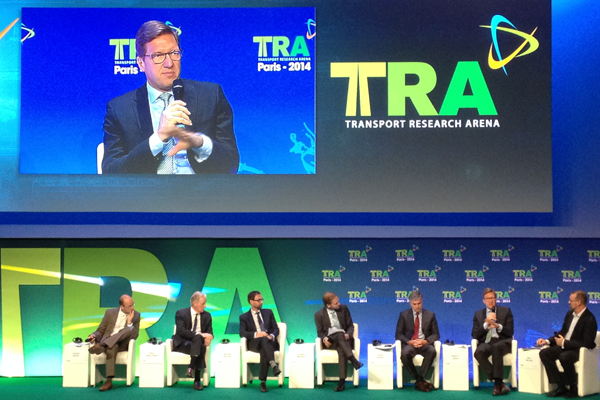 During the Transport Research Arena 2014 in Paris La Défense (14 – 17 April) ALICE was able to present itself to a broad audience. First of all, ALICE had a booth at the conference where visitors showed strong interest in its initiative. At the outreach marketplace Meng Lu presented ALICE with a poster presentation. In addition, ALICE chairman Ralph Keck was honored to represent ALICE's vision on logistics in the plenary session about how to make freight transport more efficient to over a thousand attendees among them representatives of all parts of the transport sector.
Finally, at the last day of the conference, ALICE had organized its first Mirror Group and General Assembly meeting to take the first important steps in defining the future research and innovation roadmaps for logistics. ALICE welcomed over a hundred interested guests from more than fifteen European countries who had gathered to discuss the initial steps for defining future research and innovation roadmaps for logistics.
Mirror Group meeting
The Mirror Group meeting facilitated a round table, moderated by Mr Liesa, with Liam Breslin, Head of Unit Surface Transport, DG Research and Innovation at the European Commission, John Berry, Directorate General for Transport (DG MOVE) at the European Commission, discussed the experience of other ETP Mirror Groups and EU-funded programs: HORIZON 2020 and TEN-T.
Subsequently, Rein Jüriado, Transport and Environment Division at VINNOVA presented the national program supporting innovation in Sweden and Thorsten Huelsmann, CEO at EffizienzCluster, introduced the approach used in the German Ruhr area to boost innovation in logistics through collaborative projects between industry and research organisations. This Mirror Group kick-off was attended by representatives of ten European Member States, the major national platforms in Austria, France, the Netherlands and Spain, and around fifteen regional clusters. The Mirror Group meeting was closed with round table discussions focused on synergies between different (Structural and Cohesion Funds, HORIZON 2020, national and regional) programs in logistics and supply chain research and innovation.
General Assembly
Ralph Keck, Director Product Supply, Global Logistics at Procter & Gamble and ALICE Chairman, opened the General Assembly meeting with an explanation of ALICE's vision, mission and objectives. The last decade has witnessed little or no improvement in the efficiency and sustainability of logistics. New logistics and supply chain concepts have to be developed and implemented successfully. Through bringing together primary stakeholders, especially from the industry, the performance of end-to-end logistics can be improved. It is the ambition of ALICE to contribute to a 30% improvement of end-to-end logistics performance by 2030 and to enhance the economic, social and environmental sustainability of logistics. Increased integration and collaboration could in the end result in the Physical Internet.
> More information about the vision, mission and objectives of ALICE
ALICE's main activities:
– Definition of future research and innovation strategies and roadmaps.
– Stimulating innovation.
– Raising the profile and understanding of new logistics technologies.
– Contributing to a better alignment and coordination of all logistics innovation programs.
– Providing a network for interdisciplinary collaborative research.
This was followed by a short description of the different work groups. Presented by their Work Group (vice-) Chairman.
Working Group 1: Sustainable, safe and secure supply chains
Presented by Henk Zijm, Director of Science at DINALOG, ALICE Vice-Chairman.
Mr Zijm emphasized the need for economic, social and environmental sustainability of end-to-end supply chain decisions. Implementation of state-of-the-art software, hardware and orgware will reduce various security threats (accidents, theft, crime) and waste in supply chains. It is not just about transport methods, it is about what you transport.
Working Group 2: Corridors, Hubs and Synchromodality
Presented by Angelo Aulicino, Head of Research at Interporto Bologna and ALICE Working Group 2 Chairman. In order to create a seamless co-modal system, network, service and supply chain integration needs to be increased. The stimulation of synchromodal services will create a smart and seamless core freight network of corridors and reinforce (novel) hubs focused on increased collaboration and network integration.
Working Group 3: Information Systems for Interconnected Logistics
Presented by Rod Franklin, Khüne Logistics University, ALICE Working Group 3 Chairman. This workgroup aims to increase the integration of information systems through developing new technologies and tools in order to close the major gaps in ICT systems. The development of clear business and data governance models will improve coordination within supply chains.
Working Group 4: Supply Chain Coordination and Collaboration
Presented by Sergio Barbarino, Research Fellow at Procter & Gamble and ALICE Working Group 4 Chairman. Future research should focus on new concepts in which increased collaboration and coordination will eventually result in the Physical Internet, where complete horizontal and vertical supply chain collaboration takes place. More compatible, accessible and easily interconnected resources and modes will increase logistics and supply chain efficiency.
Working Group 5: Urban Logistics
Presented by Emilio Gonzalez, Research Projects Leader at ITENE and ALICE Working Group 5 Vice-Chairman. Urban logistics research should focus on increased integration of urban freight and passenger transport and deployment of new (electric) vehicle technologies. Urban freight will be safer, more secure and cleaner, resulting in carbon-free urban logistics in 2030.
During the round table that followed, all the participants were able to ask questions concerning the direction and content of the different work groups. The general consensus was that it is important to take tentative steps. Don't run before you can walk. Since the overarching focus of ALICE covers new unknown areas, incremental steps should provide the initial guidance.
At the end of the day, Fernando Liesa presented the ALICE Governance model and structure. The membership fees were presented. Three people from the Mirror Group are represented in the Steering Group, which is the main decision-making body for ALICE. In order to avoid conflicting overlaps with other ETPs and to align the ETPs roadmaps, there will be one representative from each ETP in the ALICE Steering Group.
Overall, the TRA 2014 was a big success for ALICE. The new ETP was mentioned in many sessions, especially the plenary sessions. Much appreciated were the kind and useful comments from sister ETPs, WATERBORNE and ERTRAC, as well as the warm welcome from the organizers of the TRA 2016 in Warsaw. During her speech on HORIZON 2020, Director Soares (Research in Transport) mentioned ALICE several times and emphasized its important role in defining research and innovation priorities in EU programs. Finally, ALICE would like to thank its (vice-) chairs and working group chairs, Henk, Angelo, Lori, Marcin, Rod, Stefano, Andreas, Sergio, Dirk, Paolo, Eduardo, Emilio and Sylvain for their valuable support and contributions.
Further information
If you would like to have more information please send an e-mail to info@etp-logistics.eu.
---
---
Back to overview