Automated Vessels and Supply Chain Optimization for Sustainable Short SEa Shipping. MOSES & ALICE at TRA, 14th-17th November, Lisbon
Friday, October 28th, 2022
MOSES
is a 3-year, European Commission (EC) project, funded under the Horizon 2020 Work Programme. It was launched in July 2020 by a Consortium of 17 partners from north and south Europe and is coordinated by the National Technical University of Athens (NTUA), Greece. It aims to significantly enhance the Short Sea Shipping (SSS) component of the European container supply chain by addressing the vulnerabilities and strains that relate to the operation of large containerships. Α two-fold strategy is followed, which aims to reduce the total time to berth for TEN-T Hub Ports and to stimulate the use of SSS feeder services in small ports that have limited or no infrastructure. To achieve its objectives, MOSES is implementing the following innovations:
– For the SSS leg: an innovative, hybrid electric feeder vessel (MOSES feeder) that will prevail from different vessel concepts and will be designed to match dominant SSS business cases, increasing the utilization rate of small ports. The MOSES feeder will be outfitted with a self-sufficient robotic container-handling system that will simplify the (un)loading of containerized cargo at Hub Ports and improve the operational capacity of small ports.
– For DSS ports: the adoption of an autonomous vessel maneuvering and docking scheme (MOSES AutoDock) that will provide operational independency from the availability of port services. This scheme will be based on the cooperation of (i) a coordinated swarm of autonomous tugboats with (ii) an automated docking system based on an existing product.
– A digital collaboration and matchmaking platform (MOSES platform) that aims to maximize and sustain SSS services in the container supply chain by matching demand and supply of cargo volumes, by logistics stakeholders using Machine Learning (ML) and data driven-based analytics.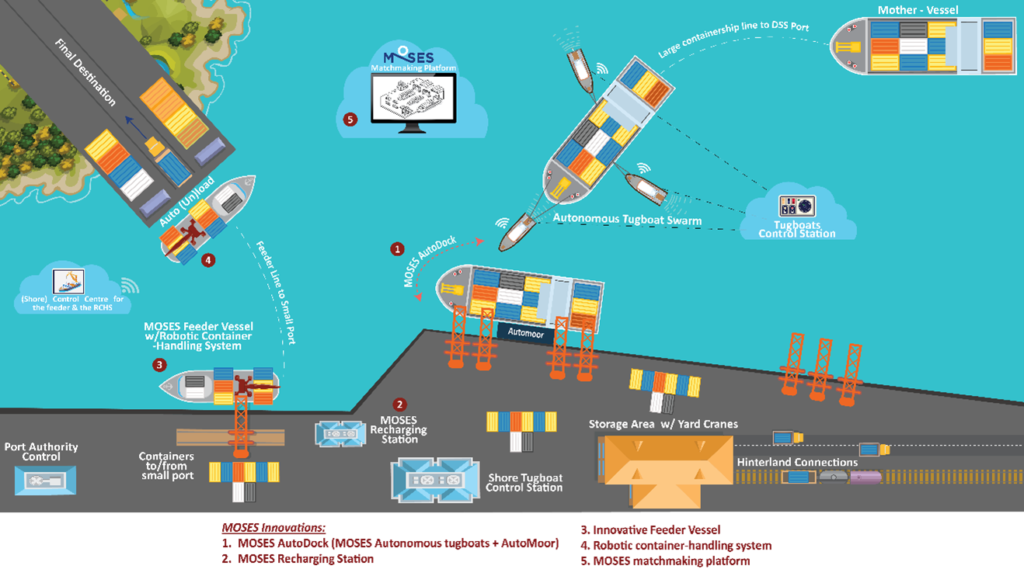 MOSES at TRA
MOSES will have a very active representation at TRA, in concrete on:
Wednesday 16th of November from 08.30 -10:00 – Special Session 51:
"Safe and efficient modal shift from roads to waterways: Automated technologies and processes, human-autonomy interactions".
Wednesday 16th of November from 08.30 -10:00 – Subtheme 2.4.1 – Paper Presentation: "Paving the way for the future of Short Sea Shipping: The MOSES project".
15th – 17th of November at ALICE Booth (presentation is available here)
15th – 17th of November at EU Stand
15th – 17th of November at Waterborne Stand
Looking forward to seeing you all at TRA, in the meantime learn more about MOSES at www.moses-h2020.eu
---
---
Back to overview