Jan 25, 2021
ALICE-ESC collaboration workshop powered by ICONET Project
Tuesday, January 19th, 2021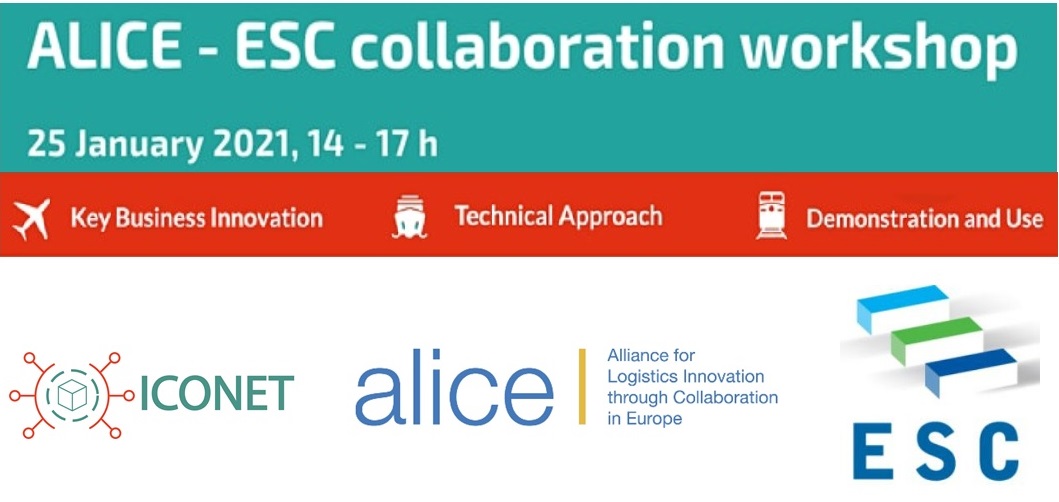 With the ICONET project coming to an end, ALICE and ESC welcome you to their joint collaboration workshop.
The System of Logistics Networks forms the backbone of the Physical Internet and requires secure, efficient and extensible services for the flow of goods, INFORMATION and finances across logistics networks. ICONET Project focused on the organization of INFORMATION flows as a key building block of the Physical Internet. The key question we want to address in this workshop is the following:
ThePhysical Internet (PI) roadmapimplementation, as demonstrated in the ICONET project, requires a step change in digitalization and subsequent "smart" data sharing and new "open network" governance and business models for the logistic industry and users (i.e. shippers).
We want to support ICONET to share its results and understand what barriers current stakeholders experience in the adoption of the digital transformation requirements and if the projected added value, as demonstrated in ICONET, is sufficient to secure the resources needed to drive adoption.
Agenda: 
14.00 – 14.05 h Welcome (Fernando Liesa, ALICE)
14.05 – 14.30 h Overview of the project (Makis Koulombis, Inlecom Systems)
Summary 4 LL's & impact assessment
From simulation to reality (ICONET, Compose, …)
14.30 h – 15.00 h D1.2 Business and Governance models
15.00 h – 15.15 h break
15.15 h – 16.30 h Interactive session
Shifting the mindset from vertical to horizontal collaboration models (Denis Choumert, ESC)
How can IT tools drive the adoption of the digital transformation (Sergio Barbarino, P&G and ALICE)
16.30 h – 16.40 h Q&A
16.40 – 16.50 h Conclusions (Godfried Smit, ESC)
16.50 – 17.00 h Follow-up actions (Alex Van Breedam, ALICE and Trivizor)
Your participation is highly appreciated !
Please watch the project video to learn more about the ICONET project:
---
---
Back to overview