Feb 28, 2023
ALICE Brokerage in-person event Horizon Europe calls 2023-2024
Thursday, February 2nd, 2023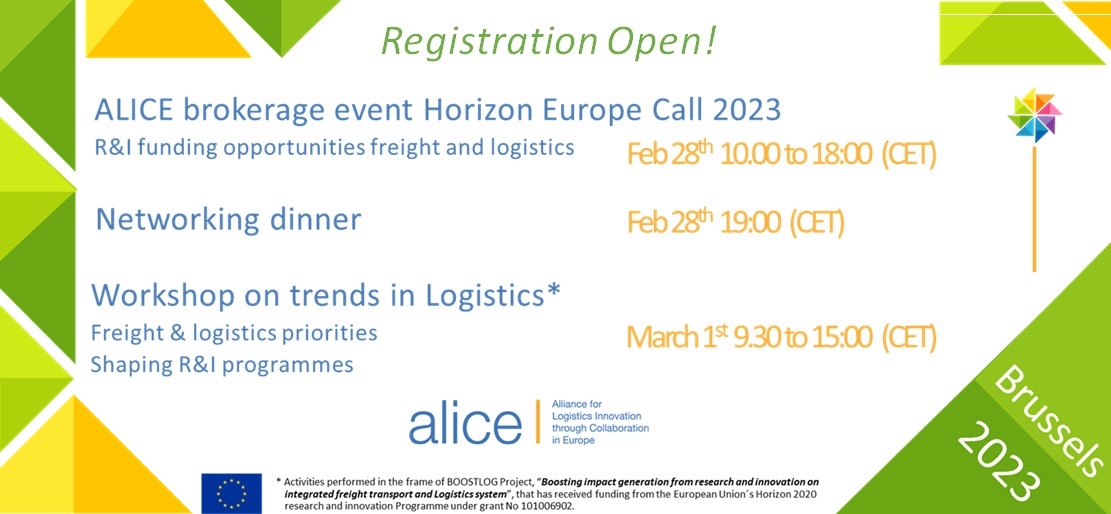 Horizon Europe Calls 2023-2024 were launched earlier in December.
More than 300 Million € are allocated for calls relevant to ALICE (find out more on the calls). At the same time, preparations for the upcoming programmes 2025-2026 are starting up.
To get an overview of the Work Programmes 2023 – 2024, connect with potential partners, review current logistics trends, set freight and logistics priorities and prepare recommendations to shape R&I programmes ALICE is organising an in-person two-day event:
In order to bring these opportunities to you, and to allow networking, the event is supported by a matchmaking platform that enables you to connect with potential cooperation partners. But first, you need to register to the event on the link below:
We kindly require all to register to both links in case you want to be there on 28/2 and 1/03
Have you ever experienced a matchmaking event? Do you know how they work?
A matchmaking event is a quick and easy way to meet potential cooperation partners and build first connections with other ALICE members and participants! Virtual matchmaking events – How do they work? Event is for free for members up to two persons per member organization.
Join the ALICE members Horizon Europe Group in the knowledge platform. This Group provide an overview of Horizon Europe Programme and funding opportunities for logistics, and you will find out other ALICE members interested in the topic! Don't forget to specify your expertise!
Additional relevant information:
Do not hesitate to contact us for any question or comment at:
---
---
Back to overview