Advanced, Efficient and Green Intermodal Systems is what we need! AEGIS & ALICE together at TRA, 14th-17th November, Lisbon
Friday, October 28th, 2022
AEGIS
is a three year project, started in June 2020, with a total funding of 7.5 M€ from the European Union's Horizon 2020 research and innovation program.
The AEGIS consortium will design Europe's next generation sustainable and highly competitive waterborne logistics system comprising more autonomous ships and automated cargo handling. Standardized cargo units and digital connectivity are key elements in the AEGIS system.
The AEGIS goal is to design a more flexible, connected and user centric waterborne logistics system. Selected by the EU Commission, the AEGIS project will continue to improve the societal and environmental impact of EU transports. A shift in European transports from road to waterborne and rail is critical for meeting the goals of minimizing the carbon emissions from transport set by the Commission. In this respect all parts of the entire logistics system need to be considered to make competitive waterborne systems; more autonomous vessels, more automation in cargo handling, improved digital connectivity.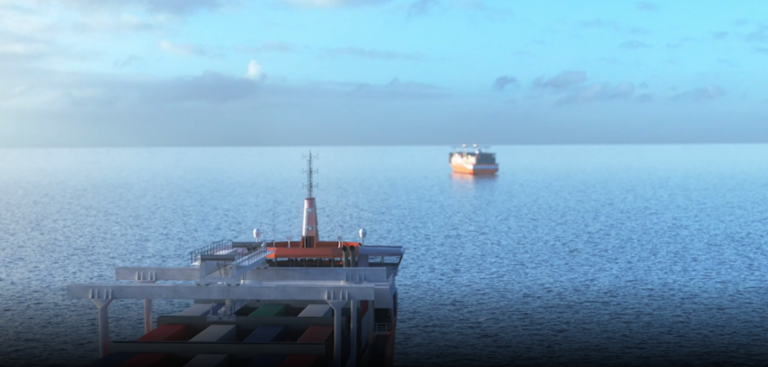 A project where autonomous ships meet automated ports
Small ships and inland barges have many benefits compared to road transport. Waterborne transport takes the pressure off the roads as well as reducing both noise and dust pollution. New ships and barges can now be operated by electric propulsion, fuel cells, hybrid solutions and, when necessary, highly efficient combustion engines, e.g. powered by LNG. Modernization of today's waterborne logistics systems is possible by connecting seagoing vessels with barges or smaller vessels for last mile deliveries. Autonomous solutions will be applied, where applicable. Further, cargo handling, ports and terminals need to be automated, and digital connectivity needs to be improved. Regional ports and city terminals will be revitalized by providing better services to rural as well as urban areas.
AEGIS at TRA
At the ALICE booth, STORM will have a project presentation and showcase the results of the project at the Innovation Theatre on:
---
---
Back to overview