Jun 13, 2023
9th International Physical Internet Conference 2023 – SAVE THE DATE! 13-15 June, Athens
Friday, November 4th, 2022

ALICE – the European Technology Platform ALICE and ICCS – the Institute of Communication and Computer Systems/ NTUA are delighted to announce that the 9th International Physical Internet Conference – IPIC20213, the flagship conference on Physical Internet, will be taking place on 13-15 June, in Athens Greece. Under the theme 'Physical Internet: Expanding the Logistics Scope' this year's conference will be focusing on Physical Internet as a suitable approach to overcome the latest breakthroughs.
Physical Internet principles and developments contribute to:
Support freight transport and logistics decarbonization in an affordable way by bringing further efficiency to logistics and enabling collaboration and sharing at marginal set up costs.
Provide further resilience to global and regional supply chains through the implementation of synchromodal strategies and interconnected logistics multimodal networks.
Support the development of the circular economy by better addressing reverse logistics and close loop circular networks.
Address urban logistics challenges, e-commerce and retail distribution in cities thanks to open an interconnected logistics and distribution networks
IPIC Conference aims to provide an open forum for researchers, industry representatives, government officials and citizens to together explore, discuss, introduce leading edge concepts, methodologies, recent projects, technological advancements,start-up initiatives, for current and future Physical Internet implementation.
Leading voices from across the world will take the stage to present a broad range of topics include inter-connected logistics, PI fundamentals, business models, governance and implementation, cross-chain control, synchromodal transportation, IT systems, stakeholders and their roles. New business models, enabling technologies and experimentations already underway will be presented, making this meeting a unique opportunity to learn, network and discuss the latest results and challenges about interconnected logistics. The ultimate objective of the Conference is to provide an effective and efficient framework for synergies and exchange of experience and knowledge that will pave the way for sustainable development of the logistics sector.
PhD Colloquium
One day prior to the Conference, the 5th edition of the IPIC Ph.D. Colloquium will take place, a one-day event aimed at developing and mentoring PhD students, run by leading academics in the field of Physical Internet.
The Call for contributions will open soon! Stay tuned to receive all updates at https://www.pi.events/IPIC2023/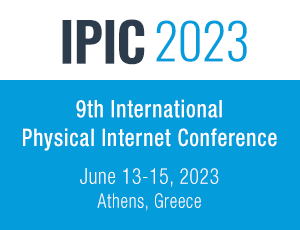 ---
---
Back to overview