Jun 20, 2022
ENTRANCE Webinar – Introduction on how to calculate GHG emissions reduction from sustainable transport innovation
Wednesday, May 25th, 2022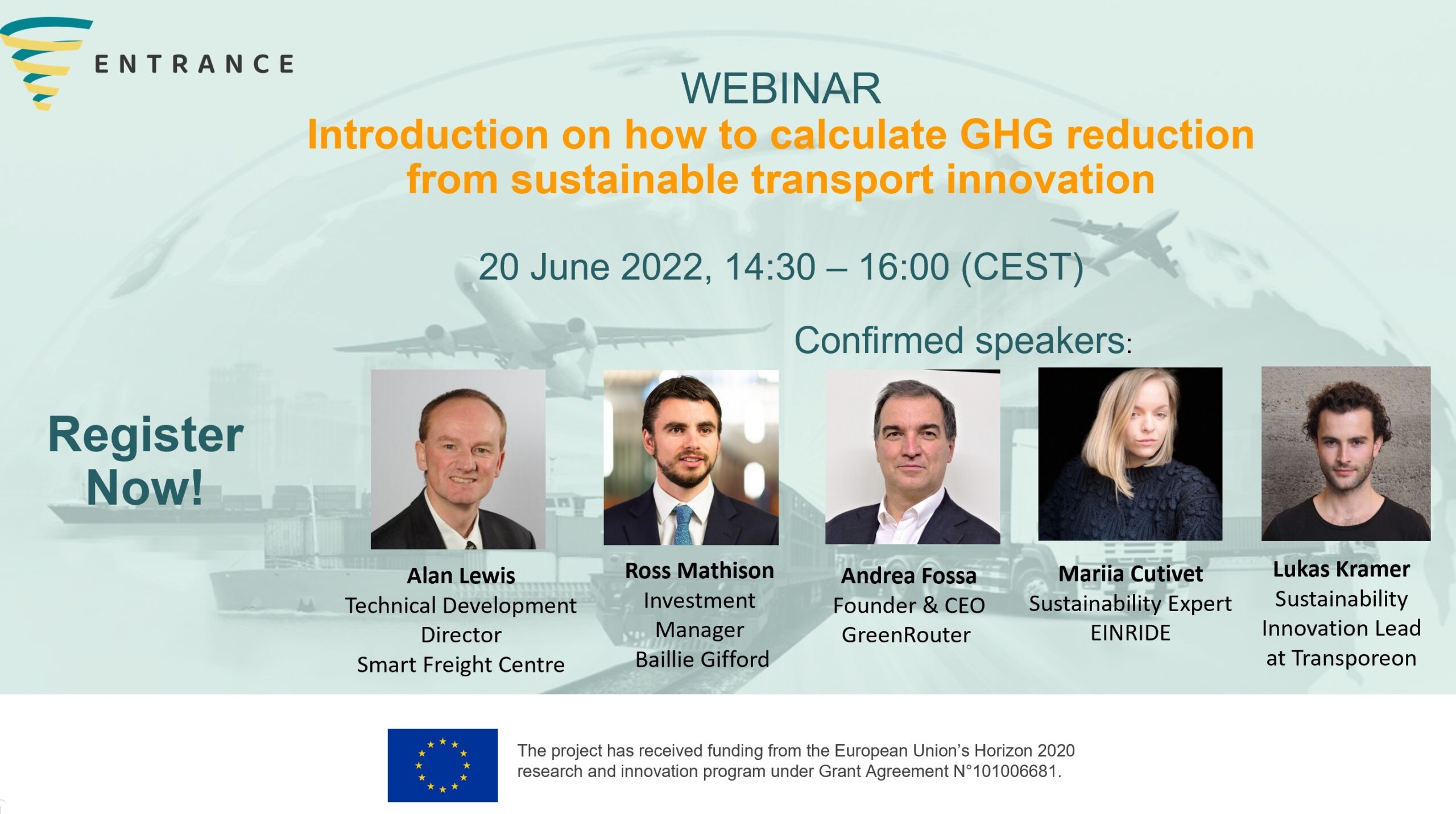 Join us to learn how to calculate GHG emissions reduction from your innovative solutions in transport and logistics
Why this webinar
Transport accounts for approximately 21% of global GHG emissions according to the International Energy Agency. Transport stakeholders have been making significant efforts to decarbonise the sector. Innovation plays a key role in reducing emissions through increased efficiency, optimised operation, transition to renewable energy etc. To enable market uptake of innovation, evidence-based impact assessment of the emission reductions from the implementation of innovative solutions is needed. Currently, many financial institutes can only invest in projects if they can be shown to help in climate action. To secure investment, innovation owners need to present their impacts on emission reduction. Therefore, assessing emission reduction from implementation of innovative solutions in the transport sector is essential. To address this need, the ENTRANCE project consortium is organising this webinar to provide introductions on current practices.
Objectives
The webinar aims to help innovation investors, buyers, and owners to develop a common understanding on how to develop a comprehensive understanding of how to assess impacts of innovative solutions on emissions reduction, thus using the impact assessment for facilitating innovation uptakes.
Who should join
Any stakeholders who are interested in selling, buying, and investing into innovative solutions for decarbonising the transport sector.
Final Agenda: 
Alan Lewis, Technical Director at Smart Freight Centre, "the Global Logistics Emissions Council (GLEC) Framework"
Andrea Fossa, CEO of GreenRouter, "Use of GLEC Framework to help our clients in reporting emission reduction"
Ross Mathison, Baillie Gifford, "Sustainable logistics – an investor's perspective"
Lukas Kramer, Sustainability Innovation Lead at Transporeon: "Showcase: How data quality helps to manage transport emissions for IKEA and Girteka"
Mariia Cutivet, Sustainable Expert at EINRIDE, "Maximising emission savings through digitalisation"
More information:
| | |
| --- | --- |
| | Activities performed in the frame of the ENTRANCE Project. The project has received funding from the European Union's Horizon 2020 research and innovation program under Grant Agreement N°101006681. |
---
---
Back to overview