Jan 31, 2017
DIGITISING EUROPEAN INDUSTRY First Stakeholder Forum
Wednesday, January 11th, 2017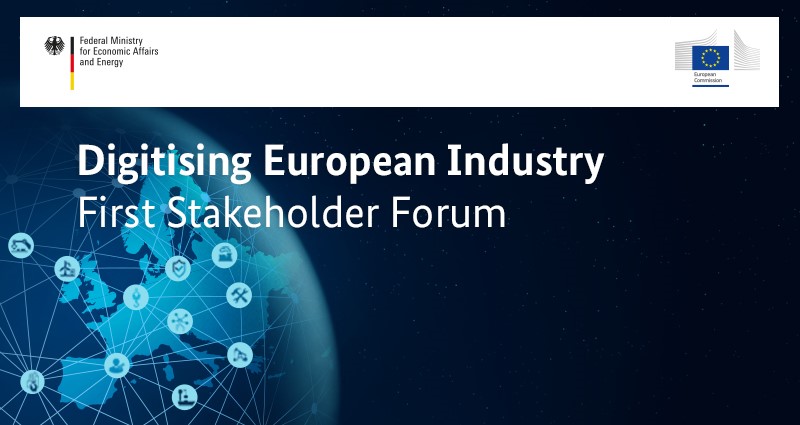 Dear colleagues,
we want to inform you about the invitation to the "First Stakeholder Forum for the Digitising European Industry Initiative" by the German Federal Ministry for Economic Affairs and Energy and the European Commission. As this event might be of interest for you we would like to inform you that registration has been opened. Please follow the link below to register
We would appreciate if you could forward this invitation to any interested stakeholder. Attendance to the event will be free of charge.
The outline of the agenda can be found here; updates will be published soon.
Further information can be found under https://ec.europa.eu/digital-single-market/digitising-european-industry and https://ec.europa.eu/futurium/en/dei-implementation
Please feel free to direct any specific enquiry to digitising-european-industry@bmwi-registrierung.de.
About the conference:
The Stakeholder Forum is a yearly public event co-organised by the EC and the Member States and the pivotal European conference to address, interlink and consult with stakeholders from the entire digital value chain. It is an essential part of the coordination framework between the various actions on the digitisation of the industry at national, regional and EU level known as the "European Platform of National Initiatives".
It will take place on 31.01.2017 and 01.02.2017 at Grand Hall – Kokereiallee, Essen (Germany).
The German Secretary of State, Matthias Machnig, and Commissioner Guenther Oettinger will open the conference; key players from business, trade unions, academia, governments and EU-Commission are participating, as well as representatives from European SMEs.
On the first day, high-level policy debates will highlight different aspects of the digitisation of the industry and Industry 4.0, whereas the second day will focus on national initiatives and will include six workshops on digital innovation hubs, digital industrial platforms, standardisation, skills for the digital age, IT security and regulatory challenges.
An exhibition area will offer the possibility to get more information on national and European initiatives, and showcase successful examples of the use of digital technologies including Industrial Data Space Initiative (www.industrialdataspace.org) and the BMWI Project SMART FACE (www.smartfactoryplanning.de).
It will be possible to visit regional examples of digital innovation and companies on the first day, including a site visit to Fraunhofer IML and EffizienzCluster, Dortmund and its Enterprise Lab Center and SME Enabling Center 4.0 "Digital in NRW" facilitated by EffizienzCluster, it's OWL and Fraunhofer IML (www.digital-in-nrw.de) as well as WILO SE, Port of Duisburg among others.
Interpretation will be provided in German / English / French on the first day.
With kind regards
Thorsten Huelsmann, CEO EffizienzCluster and Head of Unit Fraunhofer IML
Web: www.effizienzcluster.de, www.iml.fraunhofer.de
on behalf of
Federal Ministry for Economic Affairs and Energy
Scharnhorststraße 34-37, 10115 Berlin
Web: www.bmwi.de/EN
This event is organised on behalf of the German Federal Ministry for Economic Affairs and Energy by Vagedes & Schmid GmbH, Osterfeldstraße 6, 22529 Hamburg.
---
---
Back to overview